Texture Boards for Babies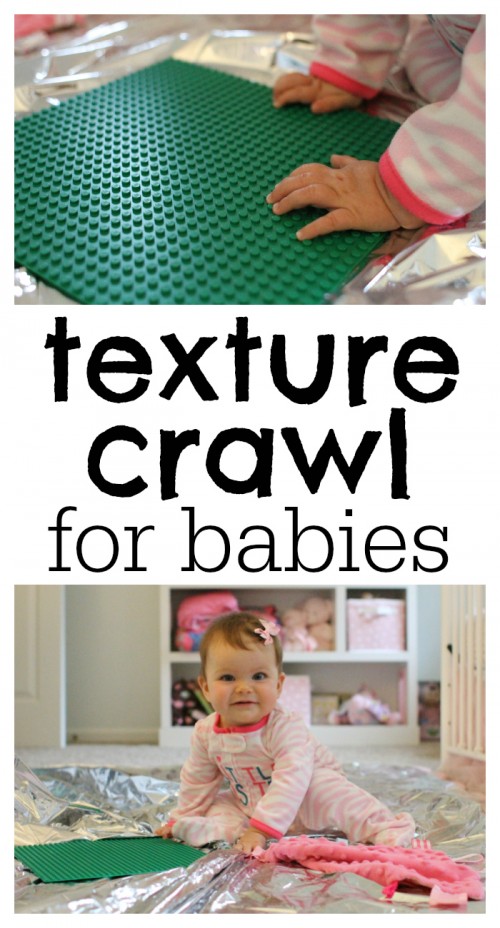 Baby Girl is officially mobile! She has been crawling like crazy for the last few weeks and life is getting a little crazier around here as we scramble to baby-proof our house once again. I shared
an idea on Instagram
a while back for using LEGO building plates for babies, but thought I would share this extended sensory play activity with a few other textures perfect for babies or toddlers!
Sensory Boards For Babies
Here's what you'll need:  items with various textures. We used an emergency mylar blanket, a LEGO building plate, and a ribbon blanket with minky fabric.
Safety note:  Do not allow your baby to put the mylar blanket in his/her mouth. I would recommend tucking the edges of the emergency blanket under an area rug.
I am adamant about keeping the boys' LEGOs put away because of the choking hazard that they pose, but these LEGO building plates are a wonderful sensory experience for babies!
She wasn't so sure about the emergency blanket at first, but eventually loved the sound and smooth texture!
Out of the three textures, she was most enamored with the LEGO building plate…she kept running her hands over it over and over again.
Check out more great ideas for your baby:
How To Teach Baby Sign Language
Baby Activities Month By Month