The Ultimate List of Dr. Seuss Activities for Kids
These Dr. Seuss Activities to go along with his beloved books are perfect for kids of all ages!  Children can learn about rhyme, repetition, and rhythm while reading these eccentric books that have stood the test of time.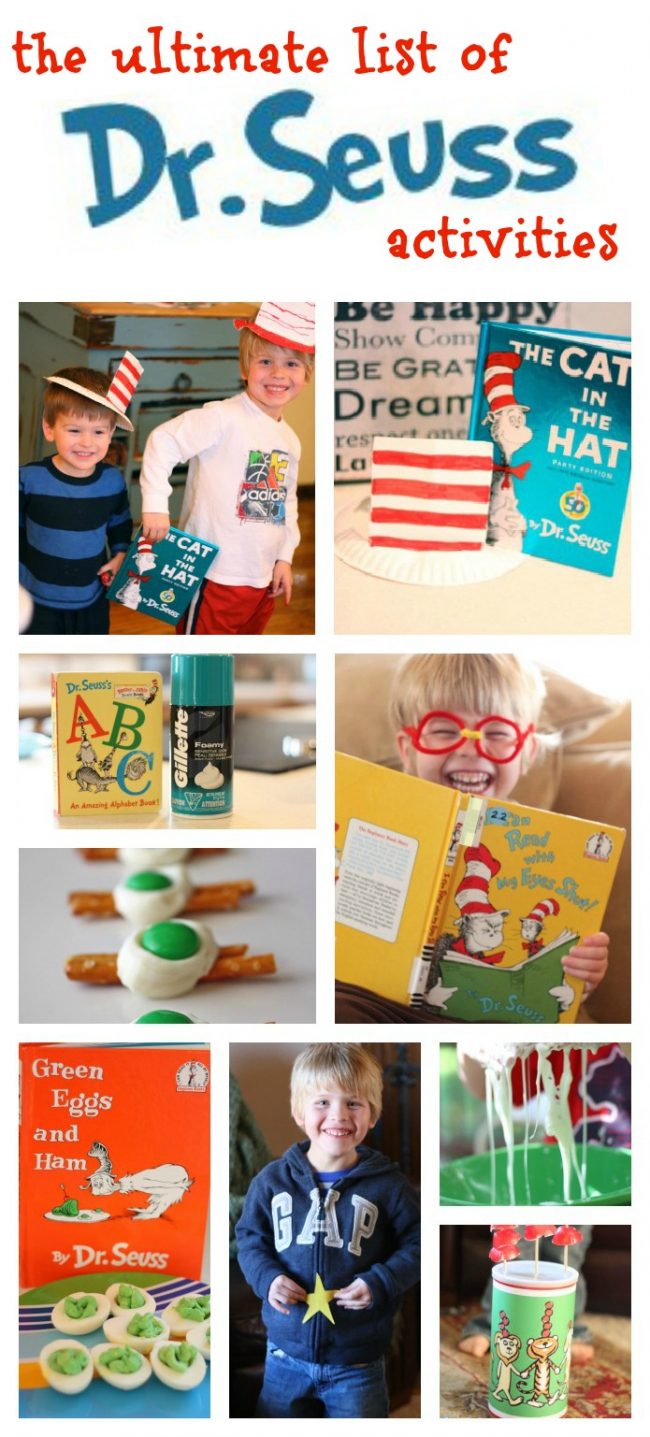 Hands-On Dr. Seuss Activities 
Dr. Seuss is one of my favorite children's authors because his stories both captivate the attention of young children and teach important literary concepts such as rhyming and alliteration… all while telling a great story!
Another great element of Dr. Seuss's books is their ability to be transformed once the book itself is closed! All of the following Dr. Seuss activities below are based on his beloved books and are hands-on and lots of fun for kindergarten and preschool age. Create a Dr. Seuss theme for the classroom or for home with these great Dr Suess art and craft ideas.
Why do we celebrate Dr. Seuss's birthday?
Dr. Seuss's birthday is March 2nd but Read Across America often incorporates honoring Dr. Seuss during their Read Across America event during the first week of March each year. Theodor Seuss "Ted" Geisel (also known as Dr. Seuss) is a beloved children's book author and cartoonist.  Many of his books are among the most popular children's books of all time, and to date he has sold over 600 million copies of his books.  Theodor Geisel died in 1991 but his legacy of inspiring children with a love for reading lives on!
1. The Cat In The Hat Activities
Find out how to make a Dr Seuss hat from with this fun Cat in the Hat craft. All you need are some cheap paper plates!
Another fun Cat In The Hat preschool activity which provides practise for various cognitive skills like counting, patterning, word families, and more! Build the cat's hat!
Cat In The Hat Snacks
This icecream Cat In The Hat snack  from Motherhood on a Dime would be a fun way to celebrate Dr. Seuss birthday on 2nd March.
These fun Dr Seuss Hat marshmallow pops are another great Dr Seuss idea from Kitchen Fun With My 3 Sons.
2. Dr Seuss ABC Book 
This is an easy and fun prewriting activity, writing abc letters in shaving cream after reading Dr. Seuss's ABC's.
3. Sneetches Activities
Play this Sneetches version of Simon Says after reading The Sneetches by Dr. Seuss. This would make a fun Dr Seuss game to play with a kindergarten class.
4. I Can Read With My Eyes Shut
The more you will read, the more you will know. – Dr Seuss
Make some simple and fun Dr Seuss reading glasses to wear before listening to I Can Read With My Eyes Shut.
5. Ten Apples Up On Top Activities
Recreate 10 apples up on top with some simple household items by stacking apples above a picture of the characters. Color in and cut our your apples or keep it simple by using a sharpie.
Use our apples printable to create an easy Dr Seuss activity to go with the book. Stacking apples on top of a photo of themselves will help your child with their fine motor skills.
6. Green Eggs And Ham Activities
Lets green egg and ham it! Enjoy these delicious green deviled eggs as you read from Green Eggs and Ham.
7. Bartholomew and the Oobleck Activities
Bring in some Dr Seuss science and have fun playing with slimy oobleck after reading Bartholomew and the Oobleck.
This is a super simple magic art activity that reveals a hidden message or the "magic words" from the Dr Seuss story. Print out our Dr Seuss worksheet to teach your kids the moral lesson of Bartholomew and the Oobleck.

8. "Please Try To Remember The First of Octember" by Dr Seuss
Use the book Please Try to Remember the First of Octember to introduce your child to the calendar.
9. Dr Seuss "The Lorax"
 Make your own truffula trees after reading The Lorax.
10. "One Fish Two Fish Red Fish Blue Fish" by Dr. Seuss
Create this Dr. Seuss craft using corn syrup after reading One Fish Two Fish Red Fish Blue Fish.
Dr Seuss Activity with Printable Placemat  from Obseussed
11. "There's A Wocket In My Pocket" by Dr. Seuss
Explore environmental print and practice some phonemic awareness concepts after reading There's a Wocket in My Pocket by Dr. Seuss.
12. Dr. Seuss's "The Foot Book"
Fizzy Footprints (inspired by The Foot Book) from Toddler Approved
This post was first published February 2013. Updated 2020.
Do you have any fun Dr. Seuss activities or crafts to go along with a Dr. Seuss book?