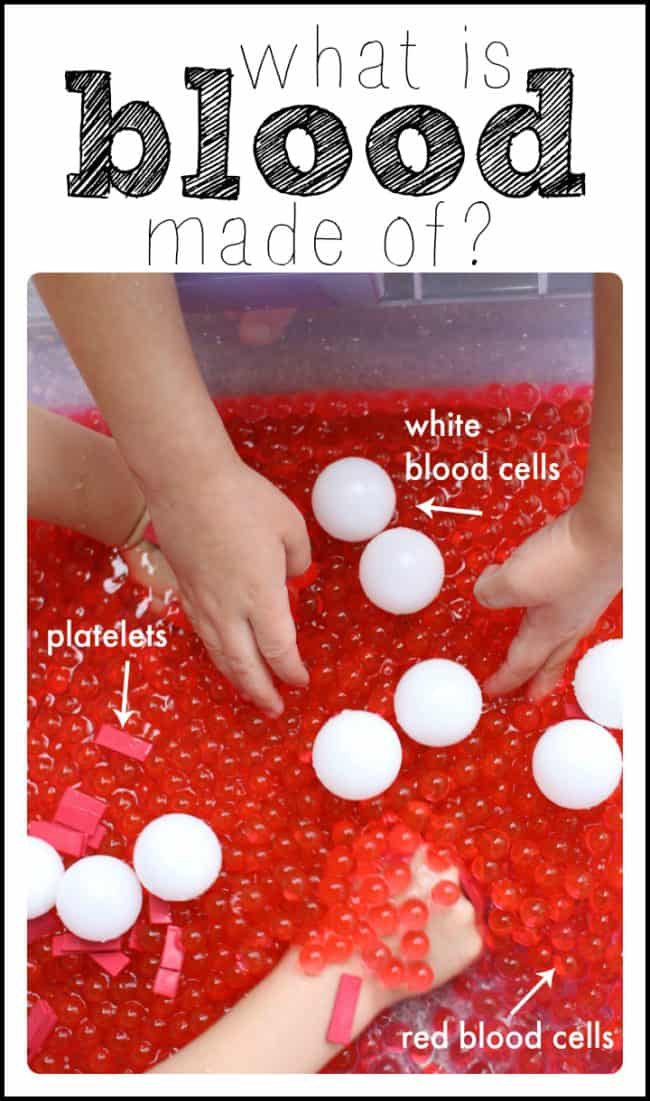 What is blood?
Blood has become a familiar sight in our household these days. Whether it is a scraped knee or bloody nose (from intense allergy issues), blood is quite intriguing to our boys. After one of our recent encounters with blood, Big Brother asked the question, "What is blood made of?"
We checked out some library books on the human body and began our research. I have used water beads in sensory tubs before and immediately knew the perfect way to demonstrate the various parts of blood in a fun and hands-on way!
*Please note:  This activity is not suitable for children under the age of 3. Please be careful with younger siblings as the water beads can be a choking hazard.
Parts of Blood Activity
Here's what you'll need:
a large plastic container (or sensory tub)
ping-pong balls (super cheap on Amazon)
water
red craft foam
Blood Activity Instructions:
Step 1.  Follow the instructions on the packaging to hydrate the red water beads. Go ahead and put them (and the water) into your plastic tub / sensory table to soak. Our package instructions indicated that once you add the water, it takes 10 hours for them to fully hydrate.
STEP 2.  Cut the craft foam into small pieces to create your platelets.
STEP 3.  Put the "platelets" and several ping pong balls in your plastic tub of blood.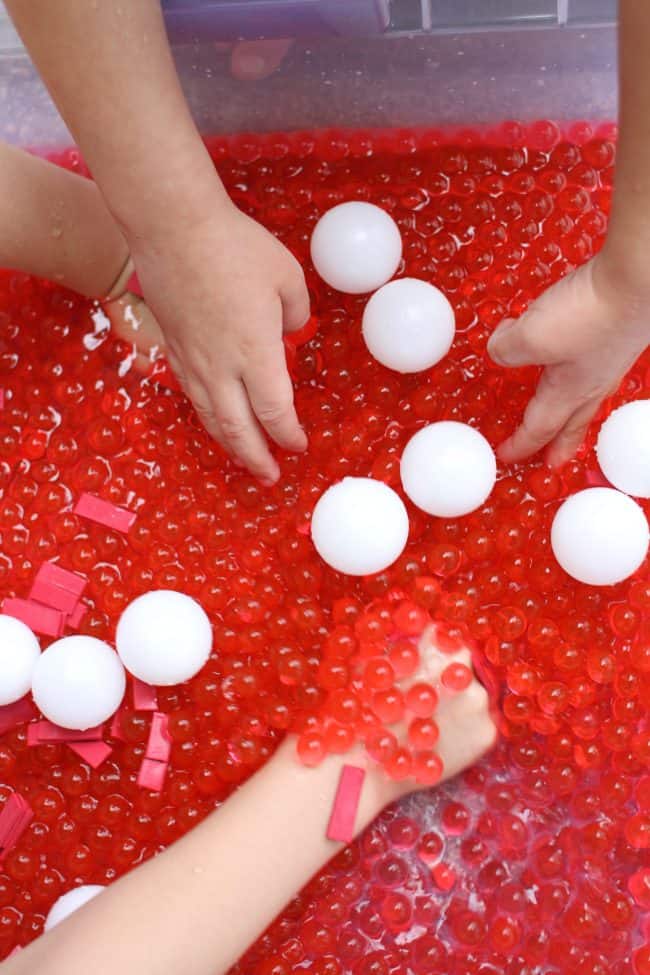 STEP 4.  Let your kids explore the "blood" for a while and then talk with them about the parts of blood:
Red water beads = Red Blood Cells (that carry oxygen)
Ping Pong Balls = White Blood Cells  (that fight germs, bacteria, and viruses)
Craft Foam Pieces = Platelets (that help heal cuts)
Water = Plasma (helps the blood move through veins and arteries)
This was a huge hit for the boys…and they were able to give Daddy a full synopsis once he came home from work!
From the book:  The Human Body 
From the book:  Body:  An Amazing Tour of Human Anatomy
This post was first published June 2014. Updated 2018.
Overall, a great learning experience for us all! What is your favorite science activity?
Click here for more about the human body:
Anatomy Books for Kids & Toddlers
Why the Human Body Needs Both Muscles & Bones
Human Body Preschool Activities
Fun Body Parts Song for Toddlers