What Works for Us: Coping when your spouse is away on business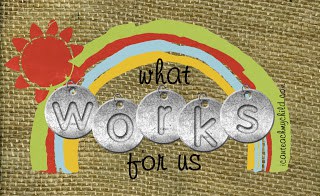 For our first four years of marriage, Prince Charming and I were apart one night. Just one. And that one night was torture!
Big Brother had just turned one-year old when Prince Charming took a new job…a job that required a bit of travel. I wasn't really pleased with the idea because I don't like being alone at night. He is typically gone once a month for a couple nights…I know, it could be a lot worse and I am a REALLY big baby (and I am extremely thankful that he has a job in this economy).
Times that he is away are times that we typically have frequent moments of "intense fellowship" (as my friend Sarah would say). It has honestly been one of the biggest challenges in our marriage because these business trips tend to fall when something big is going on in our lives (Big Brother had H1N1, Little Brother had been born not even 2 weeks prior, I'm sick and so are both boys, etc). Prince Charming doesn't like being either…he just understands it is part of the job while I am a little less understanding at times. Not only do I miss him when he's gone, I also miss the help that he is with the boys. Being a stay-at-home mom with no relief come 5:45 can make my patience fly out the window faster than a speeding bullet!
These last few business trips, I have made an attempt to make his being away as positive as possible, for both me and the boys. Here are just a few suggestions that I have found helpful:
Take a break. Whether you hire a babysitter or recruit a friend or family member, you need a break while your spouse is away (regardless of whether it is 1 night or 7). Just take a few hours for yourself…go to a movie, go grocery shopping, or go to the bookstore and enjoy a cup of coffee. Take a break from the daily grind so that you will feel refreshed and rejuvenated.
Give yourself a treat. Go to your favorite restaurant and get carry-out. If you have something to look forward to while your spouse is away, it will make things much easier.
Do something special with your children. As hard as it is on us when our spouses are away, it is equally as hard for your children. Let them stay up late for a "movie night", go to the park, or anything else that they enjoy!
Stay in frequent contact. Let your children talk on the phone to their Daddy or Mommy. Share events from the day. Let your spouse be a part of your daily routine, even while they're hundreds of mile away.
Send something special along with your spouse. Sneak an "I love you" note into his suitcase or arrange for a note to be sent to her hotel room. Even though this should never be an incentive for a loving gesture, it might be reciprocated as well. There's nothing better than a reminder of the love your spouse has for you!
We also bought this book from Amazon that we read whenever Prince Charming is away. It is one of Big Brother's favorites and explains what Daddy does while he is gone (rides in an airplane, eats in a restaurant, sleeps in a hotel, goes to meetings, etc).
When Daddy Travels (Lift the Flap Story)
by Harriet Ziefert
Does your spouse travel frequently? What ideas have you found helpful to make these times easier on everyone?