My Bob Books Review
I know that I am going to get some major flack for this post. After all, everyone loves BOB Books, right? Especially primary teachers and parents who want to help their child learn to read (which both can describe me). I might be in the minority here, but I have to be completely honest with you…
I don't love BOB Books. I just don't.
I have tried to get on board. I have Bob books Set 1 and Bob Books Set 2 and have used them with both of my boys. I even recommended them as a resource in my I Can Teach My Child to Read eBook with the caveat that they should be used in moderation.
The Bob books, however, were extremely frustrating to both of my boys. When I was first introduced to them a few years ago, I thought perhaps they were just too simple for Big Brother. He is the type of child that can see a word once or twice and remember it. Little Brother, however, is the exact opposite. Sight words are a struggle for him, so he relies heavily on decoding skills. They are two totally different learners, but they do have one thing in common: BOB Books frustrated them both to no end.
Big Brother was frustrated at the lack of a story line and Little Brother was frustrated by having to decode every single word on the page without a predictable structure.
Decodable Books
The premise of BOB Books is great: Present simple, decodable words in a book without the distraction of colorful illustrations so that children will learn to decode the words. My problem with BOB Books is this…children might enjoy the satisfaction of "reading" one of the BOB books, but I am not sure that they will instill a love of reading. When it comes to reading material for a new reader, I think it is always helpful to follow their lead (within reason). If your child gravitates towards one type of book over another, follow their lead as they build confidence in themselves as a reader. Some children might enjoy BOB books while others won't (and either is perfectly okay).
When we aim to take a balanced approach toward literacy, most of the time we should be reading to our child so that he/she falls in love with the stories we read and the facts that he/she learns (when reading nonfiction). Even higher quality beginning readers should be used in moderation.
When BOB Books are helpful…
I still think BOB Books are a helpful resource for some children, for those that show an interest in them, for example. However, in my experience I have found that children will be much more successful reading books with repetition and a predictable structure. And believe it or not, I actually recommend that children read books where the illustrations help give away the text. After all, that is a strategy that good readers use when they don't recognize a word!
Tips For Teaching Decoding Skills
If you have a child who is struggling to learn to read, work on decoding in isolation. I recommend making a Build-a-Word Tray for this task. Create a simple CVC (consonant-vowel-constant) word and ask your child to read it. Or alternate the activity and say the word, having your child find the corresponding sounds.
There are a lot of different ways you can utilize this tray, including a Real Word vs. Silly Words activity and having your child change only one letter (for example, asking your child to change the word "mat" to "sat", then "sat to pat", then "pat" to "pan". This is a great phonemic activity as well
(Go here for directions on creating your Build a Word Tray)
Learning to Read Books
When looking to find books that your beginning reader can read, look for books with a predictable pattern. Your child might have to decode the first page or two of these books, but the remaining pages will repeat with a change to one word (which can be identified using illustrations). Reading books such as these will help build your child's confidence as a reader.
I created a post with some of our favorite books for brand-new readers. Most of these books all have colorful illustrations and a predictable pattern in the text. You'll even see BOB Books mentioned at the end, because I still think they can be a good resource for some kids (just not mine and many others I have taught). :)
This post was first published August 2015. Updated 2018.
Click Here for More Helpful Tips on Learning to Read: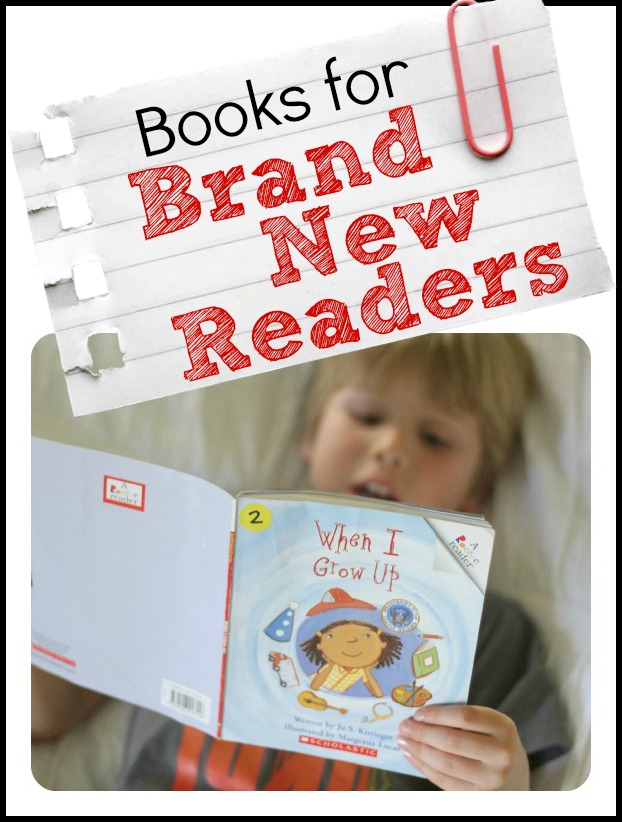 If you are interested in learning about more tried-and-true strategies for teaching your child to read, check out my eBook I Can Teach My Child to Read.