After our Word Family Snowball Toss activity, I was trying to think of a way to repurpose the ping pong balls and thought it would be fun to use them to fish!
Learning word families (words with the same ending sound) is beneficial for children as they learn to recognize chunks in words. Since these words rhyme, it is also a great phonemic awareness activity after the fact as they recall some of the words they caught in their nets and other words that rhyme with them!
Here's what you'll need:  ping pong balls, bug catching nets, painter's tape, a permanent marker, a plastic tub, and some water (you might have towels handy as well).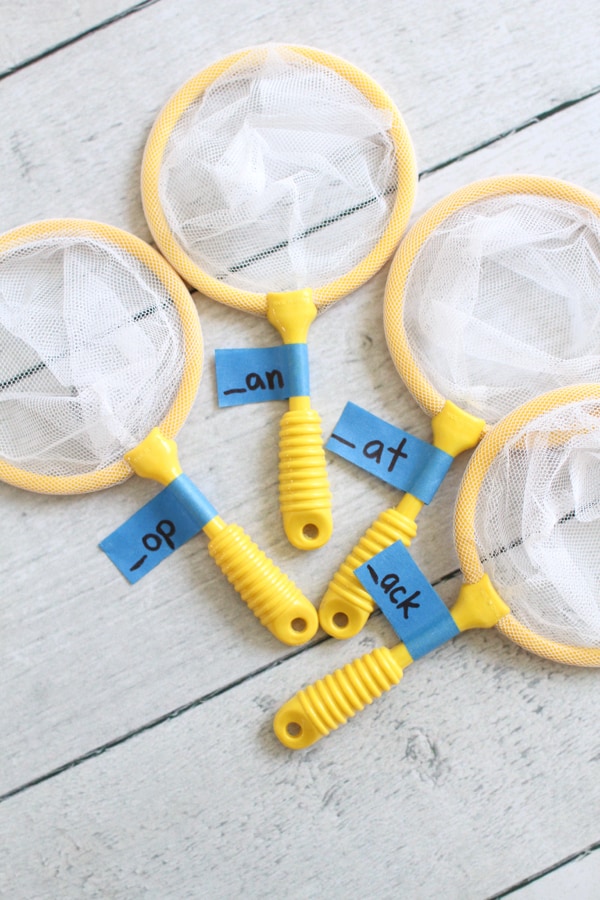 1. Wrap some painter's tape around the handle of your nets. Write the ending of the word families on each net. We chose to use _op, _at, _ack, and _an.
 2. Write words for each word family on your ping pong balls. We wrote ours on two sides to make them easier to find and read. You can go here for a full list of the word family words we used.
 3. Give your child a net and encourage him/her to go fishing for ONLY words that have the same ending sound as the net he/she is holding.