There were lots of great ideas shared last week.  Here are just a few:
Reading Confetti shares this cute idea for making a paper plate Christmas wreath.
If you include Santa in your Christmas celebration and your child hasn't written a letter to the Jolly Old Elf yet, be sure and check out this Santa Stationary from Makeovers and Motherhood.
I love this idea from Toddler Approved for a Christmas Music Workout with Kids using these printable cards!
Have an idea or activity to share??? Link up below! Next week I'll be sharing my favorites from the ones you submit!
Feel free to add the button to the post you're submitting if you would like!  Just save the image below and add a link to the homepage (http://wwwicanteachmychild.com).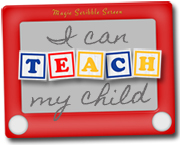 *By linking up, you are granting me permission to use and/or repost photographs from your blog.
Can't see the link-up?  Go here.