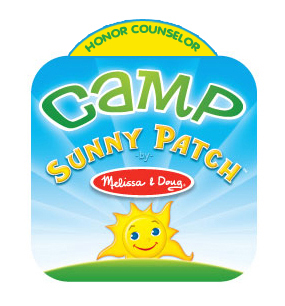 Did you ever go to summer camp as a kid? I only went to church camp, but my best friend and I hosted our very own summer camp while we were in the 5th grade for our younger siblings and their friends! We charged $10 for the WHOLE WEEK! What a bargain!
If you love the idea of summer camp but want to keep your kids close to home, you're in luck! Melissa & Doug, one of my favorite brand of toys, is hosting their very own first annual virtual summer camp! Each week, one of their featured bloggers will be sharing a fun, exciting, and original play idea for you to do with your kids!
They asked me to be one of their Honorary Counselors, which means that I'll get to try one of these fun activities and share our experience with you in a few short weeks!
Head on over to the Melissa & Doug blog to check out all the fun activities they've shared so far for Camp Sunny Patch!
*I am receiving compensation in exchange for my participation as an Honorary Counselor in Camp Sunny Patch. Please be sure to read my Disclosure Policy.