American Flag Ice Painting
It's Day 2 of our "A Very Toddler Fourth" series with Kristina from Toddler Approved. For our American Flag Ice Painting activity, we were inspired by Teaching 2 and 3-year Olds and added our own patriotic twist.
This activity is so simple and can be adapted a variety of different ways. Just let your child paint using the template as a guide or add some rock salt for a melting effect!
Here's what you'll need:
American Flag Template (laminated)
Water
Small plastic or glass
Watercolors and Paintbrush
Rock Salt
1. Download, print, and laminate our American Flag template. Cut out each individual flag. You will need to laminate it as it will be put in water and the ink from the printer will run otherwise.
2. Pour water into your container just until it covers the bottom. Put it in the freezer for an hour or so. Add the laminated flag template and then add water to the top. Freeze overnight or until solid.
3. Run warm water on the container and turn the ice block over. Use watercolors to begin painting.
You might need a little bit of water at first until the ice starts to melt.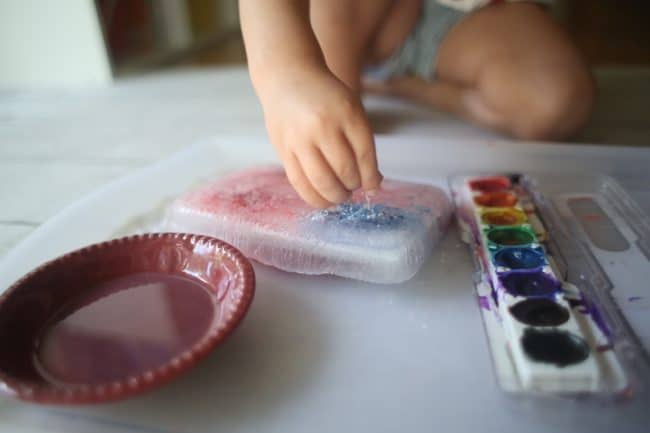 Add a little rock salt to encourage the melting process.
Try to encourage your child to use the flag as a template for painting and use the corresponding colors…but if it is a battle, just let him/her get creative!
The grooves from the salt melting the ice are so beautiful!
SaveSave
SaveSave
SaveSave