Water Soaker Painting for Toddlers
For Day 30 of our 31 Days of Outdoor Activities for Toddlers, Little Sister enjoyed this Water Soaker Painting for Toddlers activity. In fact, it looked like so much fun, her brothers decided they should get in on the action too.
I found these water soakers at Dollar Tree last weekend for $1 each and knew my kids would love them! And love them they did. We were inspired by this Squirt Gun Painting activity from Fireflies and Mud Pies.
I used both liquid watercolors and food coloring for our "paint". The color didn't show up as well when the paper was vertical as it did when we put the paper on the floor.
Water Soaker Painting for Toddlers Supplies:
Water Soakers (I bought ours at the Dollar Tree for $1 each)
Water
Liquid Watercolors or Food Coloring
Containers
Easel Paper
1. Fill your containers with water and add the food coloring/liquid watercolors. I didn't measure how much I put it…I just dumped until I thought it was enough.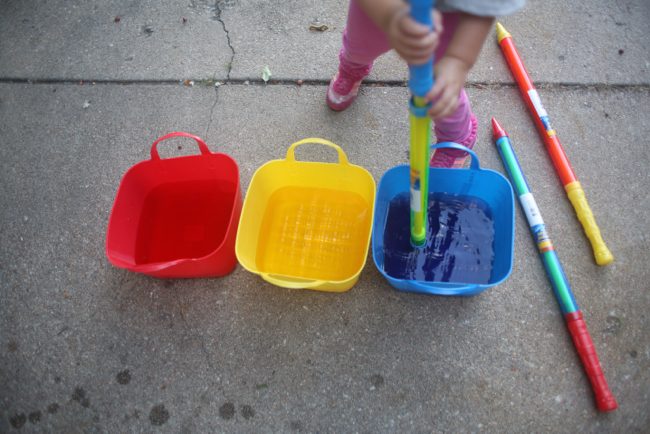 2. Let your little one soak up the colored water from the containers.
3. Then spray it on the paper.
The boys jumped in on the fun until the paper started to disintegrate! :)