April is Child Abuse Awareness Month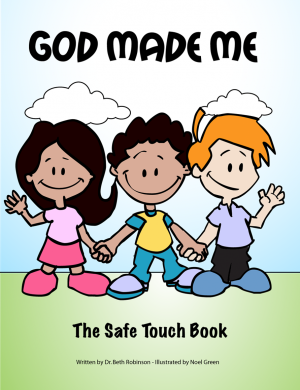 April is Child Abuse Awareness Month. It breaks my heart to think about innocent children being abused (often by those that are supposed to love them the most). Here are some recent statistics on child abuse in the United States from
ChildHelp
:
A report of child abuse is made every ten seconds.

Approximately 70% of children that die from abuse are under the age of 4.
More than 90% of juvenile sexual abuse victims know their perpetrator in some way.
Children who experience child abuse & neglect are about 9 times more likely to become involved in criminal activity.
The highest number of abuse cases are those of neglect, with physical and sexual abuse next. In my post where I share Books about the "Tough Stuff", I listed some books that deal specifically with safe touches and sexual abuse. One of these books, God Made Me:  The Safe Touch Coloring Book, is written by Dr. Beth Robinson.
Dr. Robinson has written many other books and is currently the Assistant Provost and Graduate Director of Behavioral Sciences at Lubbock Christian University. She has worked in a variety counseling positions over the years and currently has a private practice specializing in traumatized children. She is also my cousin once removed (my dad's cousin…and yes, I had to look up to proper terminology). :)
In honor of Child Abuse Awareness month, Dr. Robinson has offered my readers 20% off all of her books for the entire month of April. Just use the coupon code "teachmychild" at checkout!
In addition to God Made Me, here are a few other books that Dr. Robinson has written:
"The Safe Family Book is designed to be used by counselors and foster/adoptive parents who are working with children who have lived in unsafe and chaotic environments. The book provides descriptions of a safe family and address issues of neglect, drug use, domestic violence, and sexual abuse as unsafe behaviors in a family. It is designed for a caring adult to read to children while they look at the pages."
"Addressing sexual safety with children can be difficult. The Safe Touch Book provides an easy way for adults to teach children how to avoid being a victim of sexual abuse. The Safe Touch Book can be used by counselors, parents, and teachers." This book is very similar to the God Made Me book but without references to God, making it suitable for families who are not religious.
Dr. Robinson has also created coloring books for each of the above books mentioned, making it more interactive for the children.
Although this book isn't related to abuse, it can be a great resource helping a child cope with the loss of a friend:
"When children have a friend die from a chronic illness, parents, teachers and counselors frequently have difficulty addressing the grief children experience. This coloring book addresses the issue of childhood chronic illnesses and death in a direct and compassionate manner. The coloring book is designed for parents to read to their children several times while their children color the pages."
Check out the other books from Dr. Beth Robinson and don't forget to use the code "teachmychild" to receive a 20% discount on your order.