Transform ordinary blocks into these DIY Wooden Snap Blocks with just a drill and some special hardware to help improve your child's fine motor skills!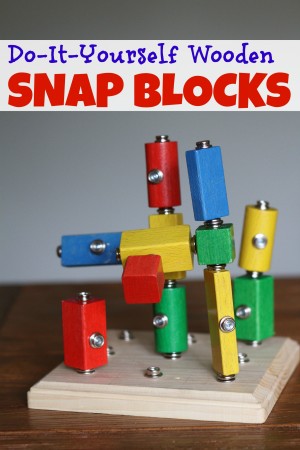 Part of the fun of having a child attend preschool (for me, anyway) is seeing all the fun activities and toys they have! I got the idea for making these DIY Wooden Snap Blocks after seeing something similar in my son's new preschool classroom. I immediately went on the hunt for the necessary supplies and began my woodworking adventure (you can also buy them here–but they're pricey)!
The awesome thing about these blocks is that they transform ordinary block-building into something extraordinary by allowing blocks to "defy gravity". Not only that, but they are EXCELLENT for fine motor control–the blocks are not easy to secure (or take apart), therefore your child must use those small muscles in his hands to connect them.
I'll be honest with you–finding the necessary supplies was a bit tricky. I reused some blocks that we already, purchased the grommets and sockets, and drilled into them. In total, I spent about $15 for this cool toy (not including the price of the blocks). This would also make a great gift idea!
Materials for our DIY Wooden Snap Blocks:
-Wooden Blocks
-6 3/4″x6 3/4″ unfinished wooden plaque (I got mine at JoAnn's for under $2 after my 40% off coupon)
–Snap Button Screw-In Studs (I used 2 packages of 25–these are by far the cheapest that I found)
-Matching 3/8″ sockets and screws (which I had to purchase at our local hardware store)
-pencil
-Drill/powered screwdriver (which even I can use).
Here is an example of the hardware you'll need.
 1. Line up the screw-in studs…I chose to do 3 rows of 3.
 2. Screw them in.
 3. Screw in the sockets using the loose screws onto one end of the blocks. Please Note:  If your blocks are made out of very hard wood, you might need to use a more powerful drill or even pre-drill the holes to keep the drill from stripping out your screws (speaking from experience). I also found that it worked best when using a vice to hold the blocks in place while I drilled them.
Add one screw-in stud on one end and one going length-wise. Then add 2 sockets on the alternating sides. In total:  You should have 2 screw-in studs and 2 sockets on each block (except for those that are too small, in which you'll only have two.
Big Brother was SUPER serious about his block building!
Proud of his "leaning tower"! :)