We've found
another
way to utilize pool noodles–making them into quiet blocks! I love it when the boys build with blocks, but we have wood laminate floors on our main floor…which means that blocks are really, really loud (especially when Little Brother is napping).
These disc-sized blocks are perfect for kids of all ages!
*Please note, if your toddler still puts things in his/her mouth… wait a while before trying these, as the foam could detach and pose a choking hazard.
1. Using a ruler, make a small mark every two inches down the length of the pool noodle.
2. Get your serrated knife and cutting board (or in my case, mat) ready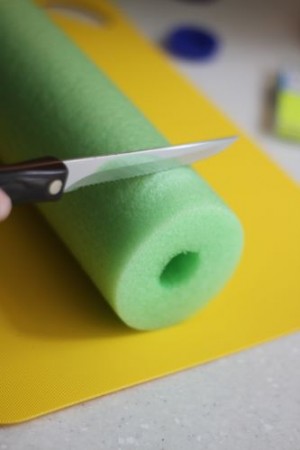 3. Cut through the noodle at every marking.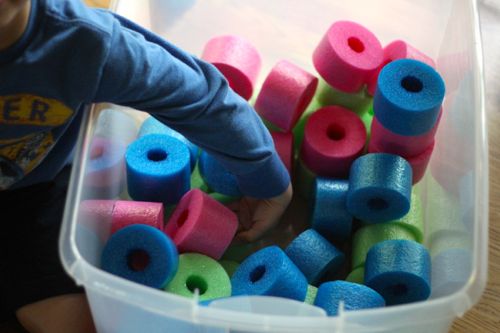 Cut the other colors as well!
Let your child begin building and engaging in some imaginative play!
 This is a city (notice the skyscrapers)…
 And this is the road….
 …that leads to a restaurant called "Luke's Alley" (all Big Brother's doing…he played for a long time)!
 Looking for more uses for a pool noodle? Try painting with them, making your own hurdles, threading for babies, and caterpillar counting!