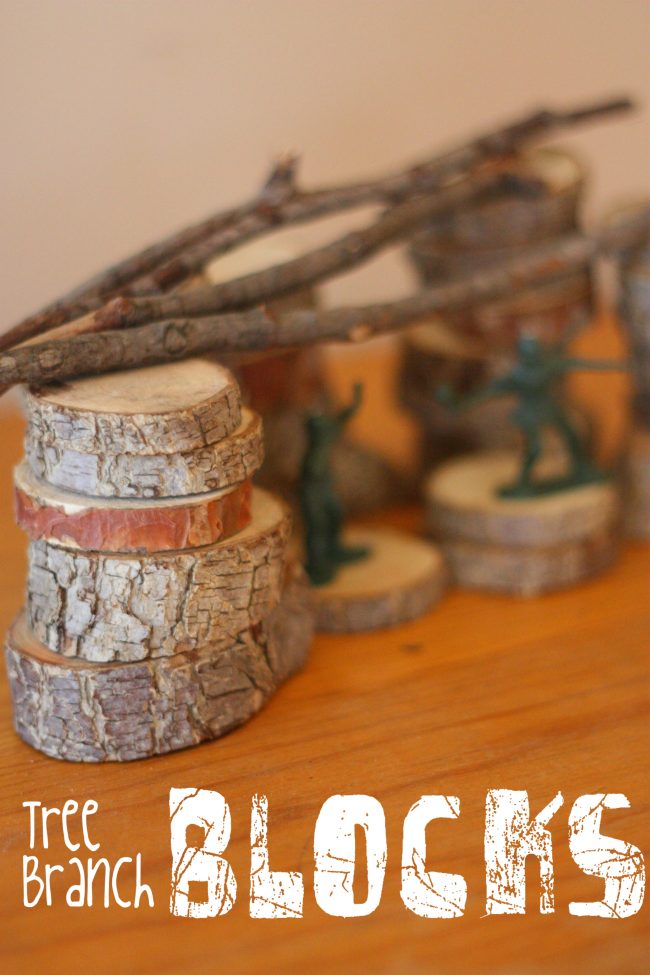 We have large trees in our yard…which is absolutely wonderful. However, we also live in an area where we gets lots of wind, which means that we often have branches and even large limbs scattered about in our yard. Thankfully, we used this to our advantage to create some tree branch blocks for Big Brother's birthday party from limbs we found around the yard!
To me, this project was super easy.
Branches + Saw = Tree Branch Blocks
However, I can say this because I did absolutely none of the work.
He did.
From what I can gather through my keen observation skills, my amazing husband used his saw (don't ask me what kind…a miter saw?) to cut the branches (which were about 2 inches in diameter) into 1/2″ discs.
We then used these as one of the activities at Big Brother's party. I covered a child-size table with craft paper, dumped the blocks on the table, and added some plastic army guys with instructions for the kids to build a fort.
Download this printable table top label if you want to use this at a party. Just print, cut, fold & trim.
The blocks are also great for stacking…
With the exception of the birthday boy (who could have cared less about these cool blocks), the other kids seemed to really enjoy building their own forts with the blocks.
Another lumberjack-y thing that the kids really enjoyed was this wood chopping set. This has now become one of my boys' favorite toys!