Family Handprint Apple Tree
At the beginning of every school year, my student's first "homework" was always to make a family tree out of each of their family member's handprints as the leaves. We thought we'd make our own family apple tree using our fingerprints as well!
Prince Charming has been out of town for a few days on business. When he got home, we decided this would be a fun family activity to do together.
Here's what you'll need: construction paper, red paint, a piece of cardboard or thicker cardstock (I used the lid of a cardboard box), and a piece of bark for the tree trunk (don't take it off of the tree–use bark that has already fallen off).
1. Trace each member of the family's handprints on green construction paper. If you have multiple children, you could just do the kids. The "family tree" looked a little sparse with just two tiny handprints so we added ours as well.
2. Cut the handprints out.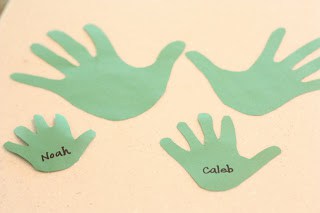 3. Glue some blue construction paper down on top of the cardboard.
4. Glue the handprints down.
5. Let each member of the family add their apples using their fingers dipped in red paint. After one attempt, we decided to skip Little Brother for this activity–it had disastrous mess written all over it.
6. Glue on the bark and you're done!
Literature Link
The Apple Pie Tree
by Zoe Hall