Encouraging Independence: Eating with a Spoon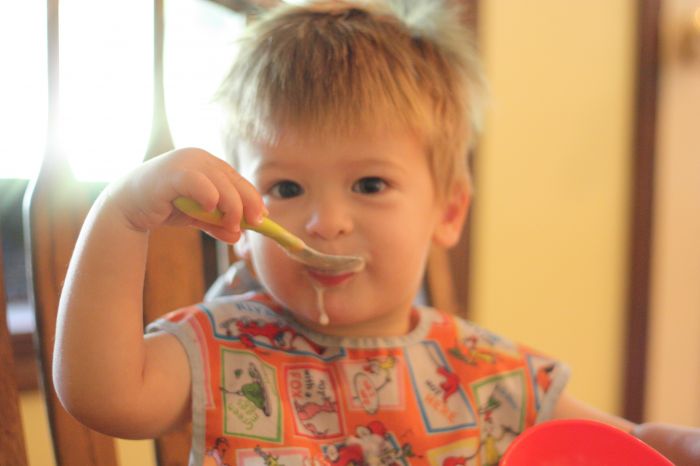 Learning to use a spoon is a dirty job.
There's no way around it…this skill set requires on-the-job training.
As much as it makes you cringe to think of the impending disaster that awaits you, your little one, and your walls for this "life lesson"…hand it over (the spoon…and the teeny bit of control you think you have, that is).
And the bowl. And the yogurt.
Let 'em have at it.
That's really the only way that I've found that works (chime in if you've found a better way). No matter how "ergonomic" the spoon is (and believe me, we've tried about every kid-spoon on the market in an attempt to find a "mess-free" alternative), the mess will happen. Just embrace it.
So grab a nice, wipeable bib and some wet paper towels. And let your little one exert his independence to his little heart's content!
(By the way, if you're wondering what age…I think I've read that at about a year you should introduce the spoon. It was more like 15-18 months with Big Brother…I had a hard time surrendering control with this one. But Little Brother ate with a spoon waaaay sooner than Big Brother did. Mostly out of necessity, I suppose. Having two little ones to take care of, I didn't exactly have all the time in the world to sit down and spoon-feed by youngest like I did with my oldest.)
Do you have any suggestions? How did you teach your little one to eat with a spoon???