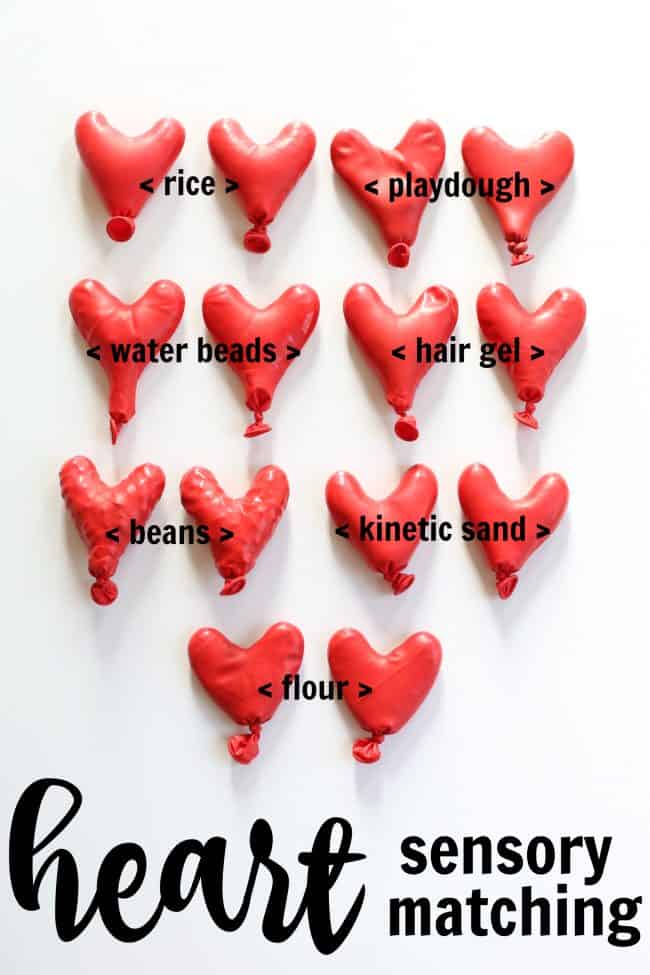 I was planning on this being an activity for the boys, as I wasn't sure Little Sister (almost 2 years old) could comprehend the concept of matching textures quite yet. But I was wrong…she is obsessed with this heart sensory matching activity! She sometimes needs help finding the matching heart balloon (the kinetic sand and playdough can be especially tricky), but overall she can match them much better than I anticipated!
Because of her love of these sensory balloons (and because she currently carries them everywhere with her in a little basket), this activity counts as one of our 31 Days of Indoor Fun for Toddlers activities.
Safety Note:  Balloons and babies/toddlers who still put things in their mouths don't mix. As with all activities on ICanTeachMyChild.com, please supervise your child for the entire time he/she is playing with these sensory balloons. The balloons themselves and the contents inside them could pose a choking hazard.
This activity is fun for older kids as well! My boys (ages 8 and 6) loved finding the matching textures. And honestly, I am 32-years old and think they are pretty fun to play with! We were inspired by these texture balloons over at Little Bins for Little Hands for this activity.
Here's what you'll need:
-Funnels
-Various contents to put inside balloons
We used dry rice, dry beans, hair gel, waterbeads (put the beads in first using the funnel and then fill with water…the beads will absorb the water), some old homemade playdough, kinetic sand, and flour!
1. Attach a funnel to the opening of your heart-shaped balloon.
2. Put the contents through the funnel and into the balloon. It might take a little muscle and finagling to get some of these items in. :)
3. Tie the balloons off so that you can make sure everything stays inside where it belongs.
4. Dump out the balloons and let your little start trying to find each heart's match.
This activity is one that your child will want to come back to again and again!
"Mommy, a mawch!"
After Little Sister had matched all of the hearts (with a little help), she decided she wanted to use the hearts to make some soup. :)
Yummy soup! :)
 See more awesome Valentine's Day activities here: