Treasure Map Capital and Lowercase Letter Matching Activity
Ahoy Matey! We joined up with some blogging friends for a special Pirate-themed day! Be sure to check out the bottom of the post for links to all our friends' great ideas! We are also double-dipping and counting this as our Day 18 activity for our 31 Days of Outdoor Activities for Toddlers series!
This Treasure Map Capital and Lowercase Letter Matching Activity is great for toddlers and preschoolers! I have included two different "maps" (each map consists of two pages taped together). One "map" has lowercase letters and the other has capital letters.
This was a spin off of our DIY Treasure Chest for Toddlers and the addition of the letter matching makes it a bit more interactive for older toddlers and preschoolers.
Here's what you'll need:
Wipes Container
Gold Spray Paint
Sand
Before you begin:  The first thing you'll need to do is print (and preferably laminate) your treasure map (print only pages 1-2 for lowercase letters or 3-4 for capital letters) and attach the two pieces together with tape on the back. Write individual letters on the 1″ round labels and affix them to the golden coins (or you can just write on the coins themselves using a permanent marker). Spray paint your wipes container with the gold paint.
When you are ready to begin:  Dump your sand in a plastic container or baby pool. We didn't use the sand much for this activity because I found spiders in our bag of sand (!!!!!), so I snapped a few pictures of the gold coins in the sand and then they just went straight to the treasure chest where I let Little Sister begin.
1. Bury some of the gold coins in the sand and leave others in the "treasure chest".
2. Introduce the printed treasure map to your child and demonstrate how to match the capital letter gold coins to the lowercase letter treasure map.
She found the letter "C" (her favorite)!! :)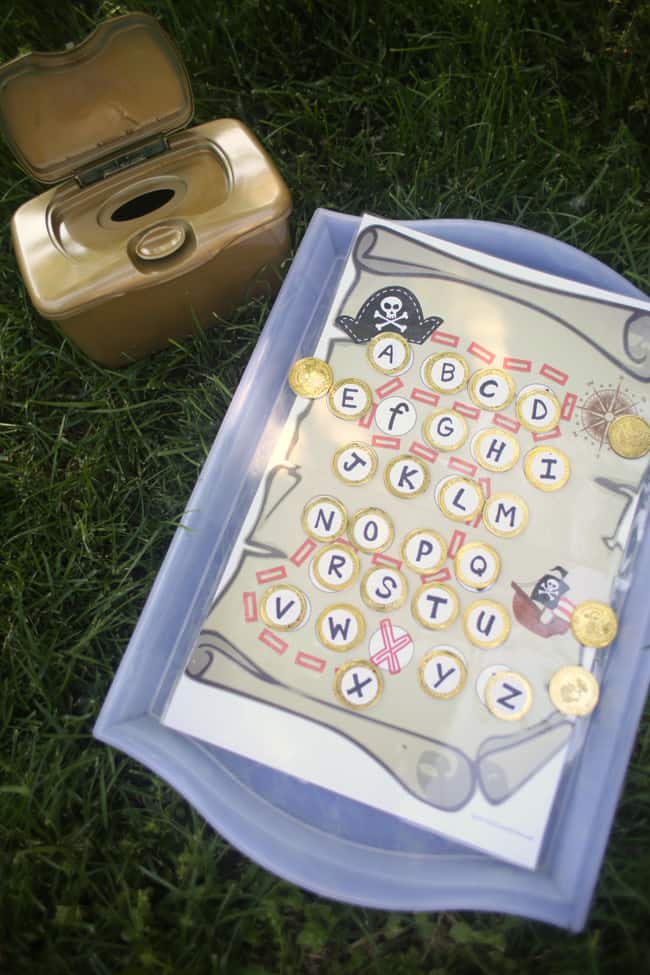 All done!
Check out more awesome pirate activities:
FROM LEFT TO RIGHT:
Treasure Map Upper and Lowercase Matching Activity // I Can Teach My Child
Paper Bowl Pirate Craft // I Heart Crafty Things
Color by Code Addition Sheets // The STEM Laboratory
Pirate Busy Box // Teach Me Mommy
Pirate Treasure Beginning Sounds Activity // Mom Inspired Life
Pirate Maths: Doubling Numbers // Adventures and Play
Treasure Chest Beginning Blends Match // The Letters of Literacy
Digging for Pirate Treasure Numbers // Play and Learn Every Day
Pirate Digraph Spin and Cover // Recipe for Teaching
Pirate Color by Sight Word Activity // A Dab of Glue Will Do
Glittering Pirate Treasure Slime // Schooling a Monkey
Pirate Treasure Chest Alphabet Play Dough Mats // Modern Preschool
I Spy ABC Treasure Map Writing Activity // Powerful Mothering
Pirate Dice Activities // Fairy Poppins
Pirate Sight Word Bingo // Mrs. Jones' Creation Station
Pirate Treasure Greater Than Less Than Activity // Science Kiddo
Pirate Monkey Beginning Sounds Activity // Pages of Grace
Sink the Sight Word Pirate Ships // Liz's Early Learning Spot
Pirate Themed Number Puzzles // Sara J Creations
Story Time with Printable Pirate Math Activity // Homebound but Hopeful
Treasure Chest Math Facts Sort // The Kindergarten Connection
Editable Pirate Sight Word Game // Playdough to Plato