Where the Wild Things Are Treats
We are teaming up with several of our blogging friends and participating in the Virtual Book Club for Kids this year! Each month we will share a beloved children's book along with TONS of activities to do before, during, and after reading the book. Check out all of the books we'll be reading here.
This month we are featuring the book Where the Wild Things Are by Maurice Sendak. I adore this book and my boys think it is pretty great too! The boys and I decided to make some fun treats together inspired by the book!
These Where the Wild Things Are Treats are super easy and fun to make with your kiddos. The apple boats are the healthy option while the cookies are obviously not…but a treat every now and then isn't going to hurt, right?
Here is what you'll need:
Sugar Cookies
Frosting (yellow or white)
Apples
Cheddar Cheese slices
A few pieces of dried spaghetti
Chocolate Bars
Grater
Edible Googly Eyes (we used the white kind as that is all I could find, but I recommend the yellow eyes)
Slivered Almonds
Air Heads Candy (Mystery White flavor)
Tube of black frosting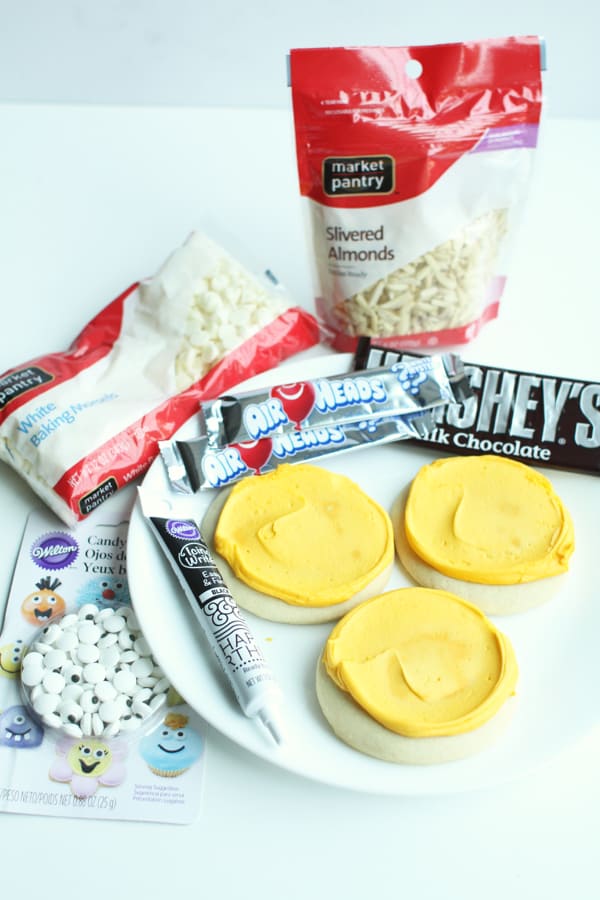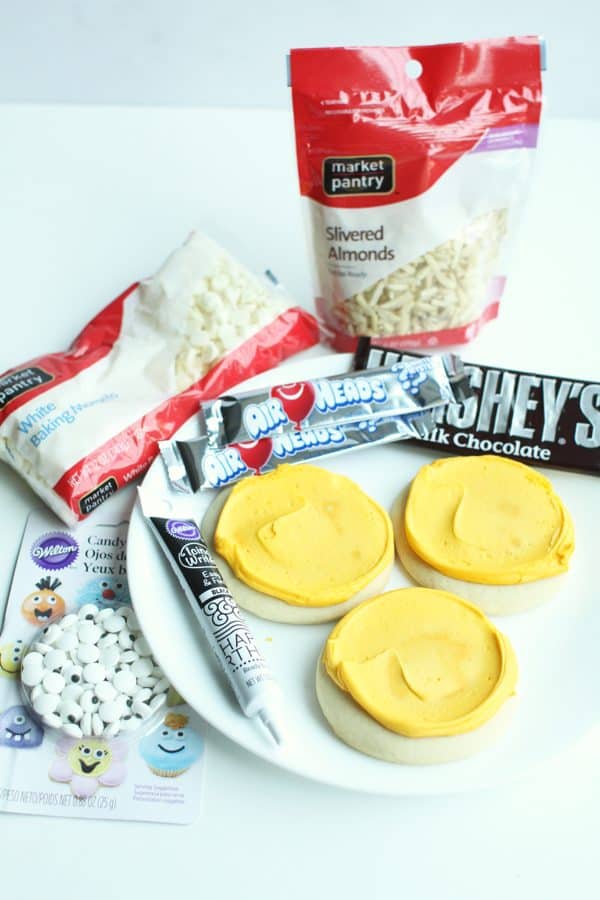 (The picture shows white chocolate chips, but we didn't end up using those.)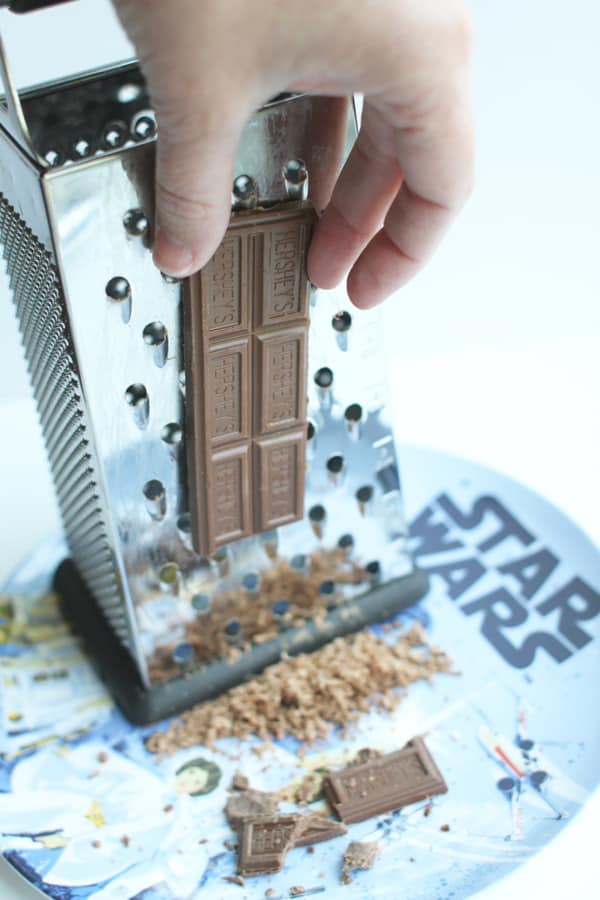 1. Use a cheese grater to grate a few bars of chocolate. This will be their hair on the monster cookies.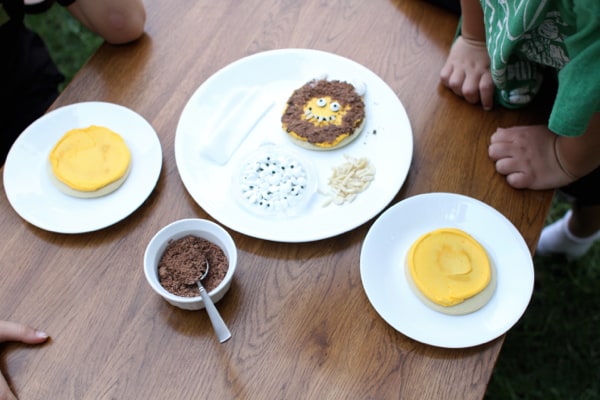 2. Set up your decorating station. It was a beautiful day, so we went outside! I cheated and bought the frosted yellow cookies…I was right next door to our favorite cookie shop and figured it was easier than making a batch myself. :)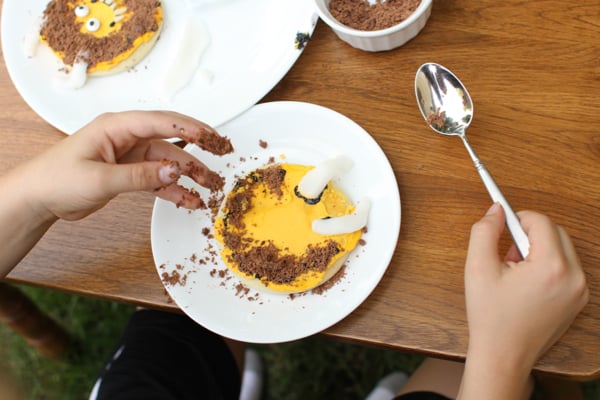 3. To make the horns, take a small piece of the Air Heads candy (the Mystery flavor) and mold it in your hands to shape it into horns. Use the frosting to secure to your cookie.
4. Add the edible googly eyes and a black frosting smile.
5. Sprinkle the grated chocolate bar around for the monster's hair and then add the slivered almonds for the teeth!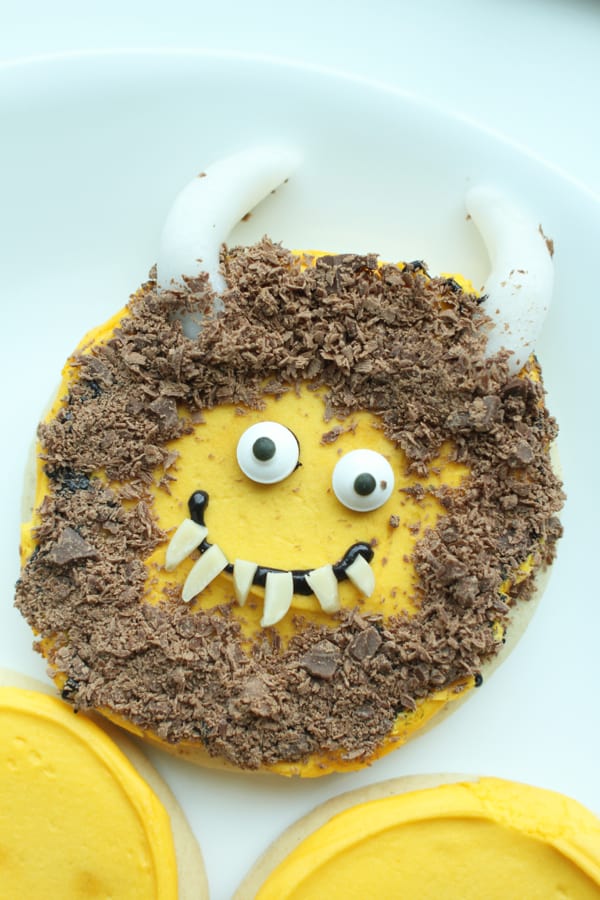 Rawr!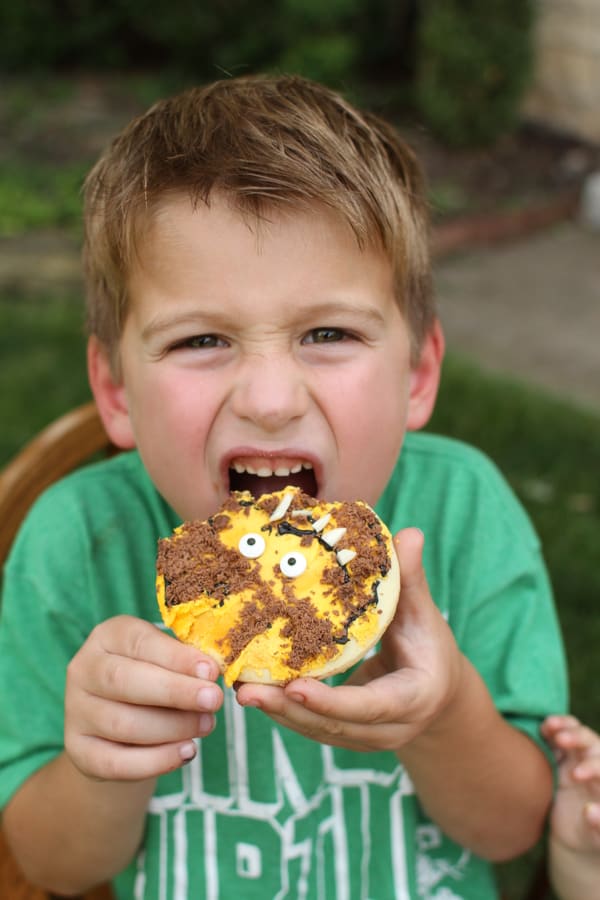 "I'll eat you up, I love you so!"
6. To make the apple boats, core the apple and cut in half or thirds, depending on the size of your apple. Use dried spaghetti noodles to hold the cheddar cheese sails in place.
All three kiddos enjoyed their Wild Things snack time outside!
Check out all of the other amazing ideas ideas for Where the Wild Things Are:
Monster Hands Alphabet Match  ::  Toddler Approved
Name Crown Craft  ::  The Pleasantest Thing
Where the Wild Things Are Counting Game  ::  Mom Inspired Life
Wild Things Scented Monster Playdough  ::  Preschool Powol Packets
Where the Wild Things Are Monster Glyphs  ::  Inspiration Laboratories
Where the Wild Things Are Color Fun with Feelings  ::  The Educator's Spin on It
Where the Wild Things Are Action Word Rompus  :: Growing Book by Book
Make a Wild Thing Shape Craft  ::  Still Playing School
Where the Wild Things Are Mapping Our Backyard Habitats  ::  Rainy Day Mum
Where the Wild Things Are Gross Motor  :: 3 Dinosaurs
Where the Wild Things Are Sand Tray Activity  ::  Study at Home Mama
Sailboat Tangrams  ::  Mama Miss