Mini Monster Fruit Pizzas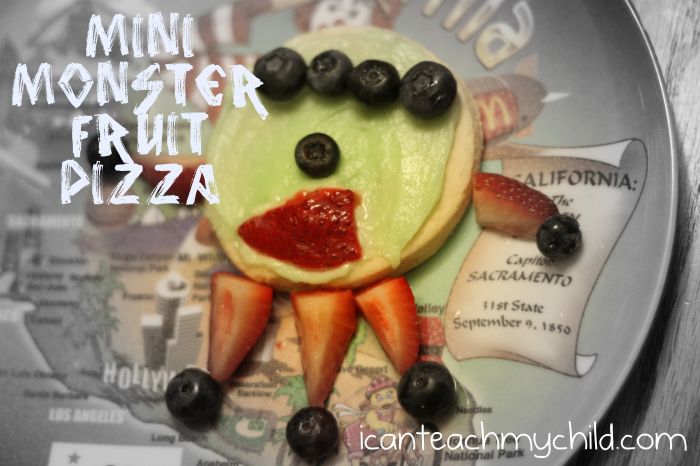 We swapped date nights with some friends of ours this weekend…we went out on Friday (and they watched the kids) and then they went out on Saturday (while we watched the kids). On our night with the kiddos we decided to make some miniature fruit pizzas…monster style!
I used the World's Best Sugar Cookie Recipe…these cookies are so light, fluffy, and soft that they are almost more like scones than cookies. And they aren't very sweet on their own, making the sweetness of the frosting (or cream cheese mixture in this case) stand out even more. I only made half of the recipe this time, since it makes a ton.
World's Best Sugar Cookies (according to Jenae)
1 c. butter
1 c. sugar
1 c. sour cream (trust me…you won't be sorry!)
2 eggs, beaten
2 tsp. vanilla
2 tsp. fresh lemon juice (I used the bottled kind, that I just bought. That's "fresh", right?)
5 c. flour
2 tsp. baking powder
3/4 tsp. salt
1 tsp. baking soda

1. Cream butter and sugar.
2. Mix in sour cream, eggs, vanilla, and lemon juice.
3. Add the dry ingredients and mix thoroughly.
4. Chill dough (at least 1 hour, we "chilled" overnight)
5. Roll 1/8 thick on a floured surface and cut with cookie cutters. MAKE SURE you roll them out thin enough. They will puff up a little during baking, so they need to be really thin when rolled out.
6. Bake 8-10 minutes at 350 degrees.
We then mixed 1 stick of softened cream cheese, 1/2 cup of sugar, and 2 teaspoons of vanilla to make the cream cheese topping for the fruit pizza. Oh, and don't forget a little bit of food coloring to make it a monstery-color!
Cut up some fruit…
And let the kiddos get busy making their monsters…
And here were some of the creations…
And it didn't even occur to me that monsters might need legs and arms…the kids thought of that addition all on their own!