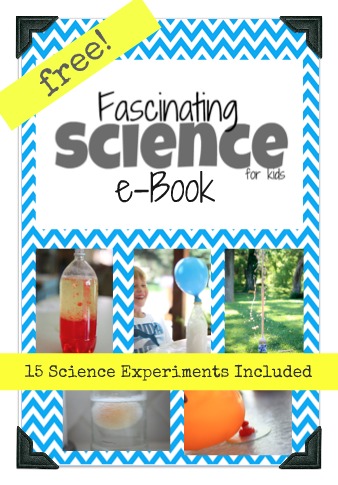 I shared on my Facebook page earlier this week that things were going to be a little slow on the blog this week while I worked on something extra-special for YOU!  It's here:  A FREE eBook filled with science experiments to do with your kids…just in time for summer!
One of Big Brother's favorite things to do is science experiments.  He is too young to understand the "science" behind most of them, but he enjoys them nonetheless.  Science experiments offer a perfect opportunity to teach cause-and-effect, even with children who can't yet understand the scientific principles at work.
I thought it would be fun to start making "Science Time" a regular in our house, but I wanted something that was easily accessible so I didn't have to find the experiments on my computer every time.  My solution?
I combined all of my favorite science experiments into a printable eBook!  And I'm giving it away for free to new and current e-mail subscribers!!!
Most of these experiments were adapted by others I found around the web (you can find links to those posts at the bottom of each page) and the pictures are all original to me.
Here is a sneak-peak of a few of the pages…
In addition to the eBook, I'll be walking you through each of the experiments step-by-step over the next several days!
What are you waiting for?  Here's what you need to do to download your very own eBook:
 Go here and enter your e-mail address to subscribe for free e-mail updates.

You'll immediately receive an e-mail from "Feedburner E-mail Subscriptions" asking you to activate your subscription.  Click on the first link to activate.

Directly underneath the link to activate your subscription, you will see the following:  "As a THANK YOU for subscribing, here is my FREE gift to you.".  Click on the link to get your 16-page eBook!
*If you would rather not subscribe via e-mail, you can also "like" us and then send a private message to get your eBook.
If you are already an e-mail subscriber, check the e-mail in your inbox today.  Click on the image (like the one shown below) to begin downloading your free eBook!

Help me spread the word!  Share on Facebook and Pinterest by clicking on the icons below!!!