Gift Idea: Science Kit for Kids (with free printables)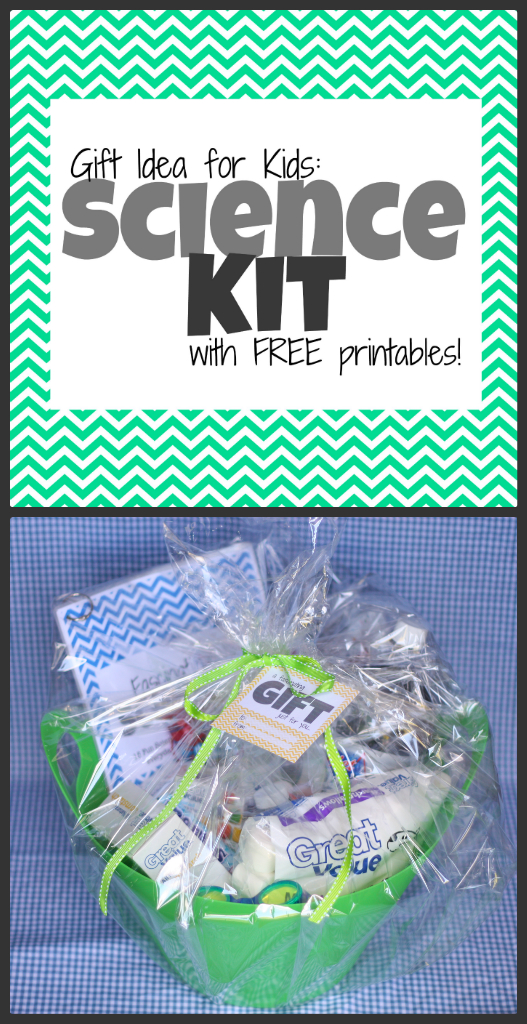 I love the idea of giving a gift to a child that involves quality time together, discovery, and maybe even a little learning! A Science Kit offers just that…plus lots of fizzing, zooming, and reacting!
Actually, the entire reason I formatted my Fascinating Science for Kids eBook was for this very purpose:  to be able to eventually use it as a gift. I didn't add page numbers because I wanted to be able to exclude some experiments that might not be age-appropriate. I wanted to instructions to be bright, fun, and inviting (hence, the multi-colored Chevron background). :)
I was able to buy everything (including the tub) for less than $20 by buying generic of most items at Walmart!
After printing the eBook, I decided to laminate the pages back-to-back and bound them with a metal ring.
Here are the contents of the Science Kit:
Download and Print the Fascinating Science for Kids eBook (include the experiments you choose)
Goggles (I just found some cheap ones at Walmart:  $1.67 for a two pack)
Personalized Lab Coat (a men's white-collared shirt from Goodwill with the child's name written on it)
Marshmallows
Rubber Bands
Balloons
Food coloring
Funnel
Vinegar
Baking Soda
Hydrogen Peroxide
A few tablespoons of Yeast
2-Liter of Diet Soda
Mentos
Oil
Bar Magnet
Rock Salt
Radish seeds
CD/DVD
Cap of a Sports Drink
Combine all of the materials and print off a gift tag.
Wrap up the basket in some cellophane and add your tag!
Give this unique gift to a special child in your life for birthdays, Christmas, or just because!