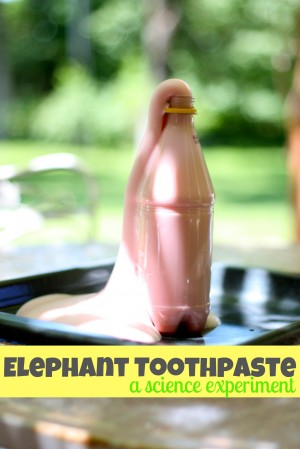 Continuing our journey through Fascinating Science for Kids (my eBook you can get for FREE here), today we're exploring the reaction that takes place when yeast is mixed with hydrogen peroxide and a tiny bit of soap. Preschool Powol Packets (where I first saw this idea) coined the title "Elephant Toothpaste" for this experiment. I seem to think that name fits rather perfectly!
Here's what you'll need: a 16 oz. bottle, hydrogen peroxide, instant dry yeast, dish soap, food coloring, a funnel, and a large pan.
*Please note: Preschool Powol Packets recommends using 6% hydrogen peroxide for a more dramatic effect, which can only be bought at beauty supply stores. I chose to just take our chances with the hydrogen peroxide we had in our medicine cabinet (which was bought at Walgreens) and I was very satisfied with the results, even though it wasn't quite as "fluffy".
1. In a small bowl or dish, mix 2 tablespoons of warm water with 1 teaspoon of active dry yeast. Gently stir together and let sit for a few minutes.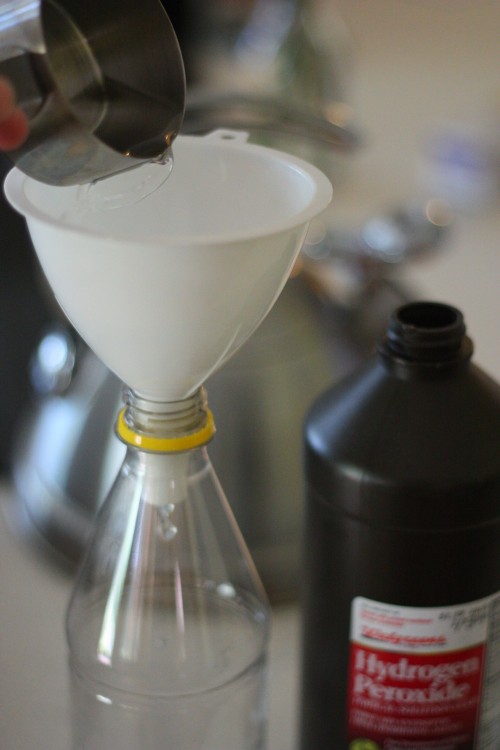 2. In your 16-ounce bottle, use a funnel to pour 1/2 cup of hydrogen peroxide.
3. Add 4-5 drops of food coloring and a squirt of dish soap to the bottle as well.
4. Place the bottle on a large pan and carefully pour the yeast mixture into the bottle. The reaction will be immediate!
…Overflowing
The boys were DEFINITELY entertained!
"Can we do it again?"
Let your child touch the overflow foam as well…just make sure they wash them promptly afterwards and don't put their hands in their mouths!
The Science Behind It:
Hydrogen peroxide naturally breaks down into water and oxygen. The yeast (which is a catalase, an enzyme in all living things) speeds up this process. The dish soap creates bubbles, which overflow out of the bottle!
Download your free Science eBook with this idea and many others by clicking below and entering your e-mail address. You'll immediately receive an e-mail that will have the link to the eBook! If you would rather not be an e-mail subscriber, "like" us on Facebook and then send us a private message to claim your FREE eBook.