This experiment certainly isn't a new one…in fact, you might have already done this with your kids! It is a great sensory experience for little kids and a way to talk about matter (liquids, solids, and gases) with older kids!
The science info (at the bottom of the post) came from Kitchen Pantry Scientist and Steve Spangler Science!
Here's what you'll need: cornstarch, water, and a large bowl. Optional: food coloring.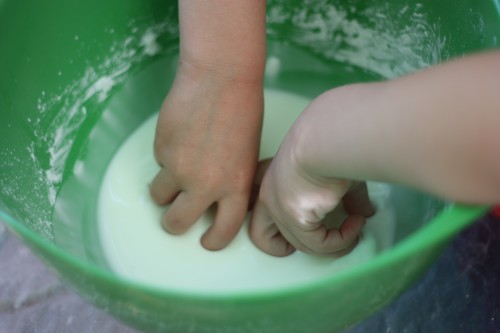 1. Mix 1 cup of cornstarch and 1/2 cup of water. It should be the consistency of syrup. Add food coloring if you choose. I opted to leave this out to make the clean-up a little easier (and preserve the boys' clothing).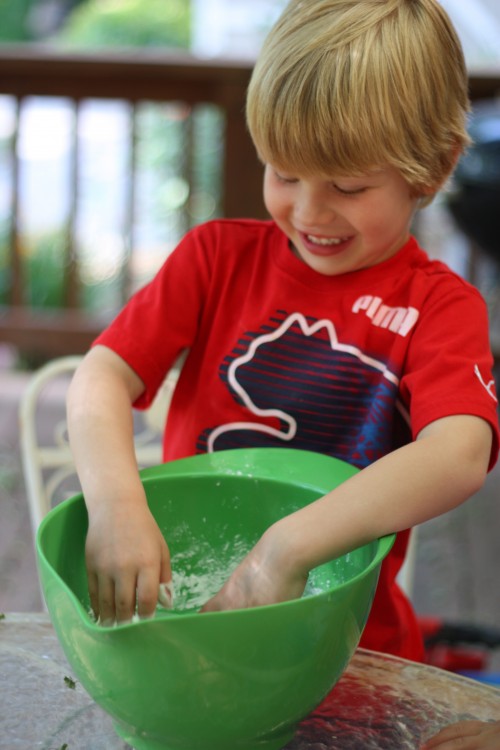 2. Encourage your child to put his/her hands in the bowl and begin playing. Big Brother was excited, at first…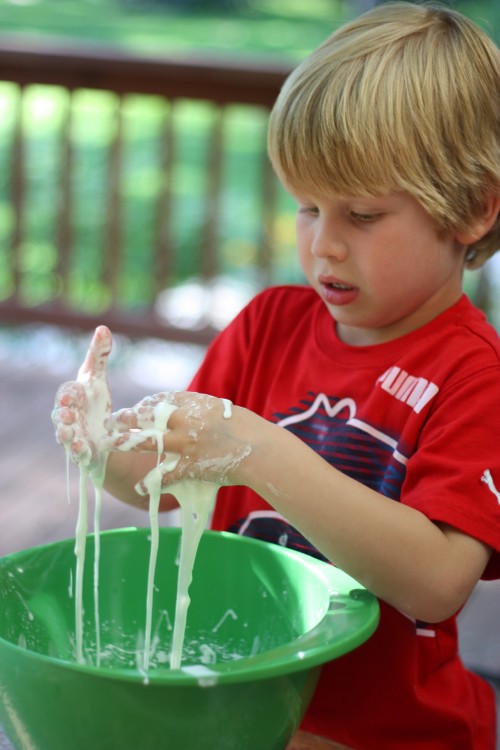 …the texture took some getting used to. After a few minutes, he really enjoyed it.
If you've never had any experience with Cornstarch Goo (or what I call Oobleck from Dr. Seuss' book Bartholomew and the Oobleck), it is really strange. If you move slowly or hold it still, it behaves like a liquid. But if you quickly agitate it or attempt to roll it up, it behaves like a solid!
The Science Behind It:
Cornstarch is made up of long chains of atoms. When you move them slowly past one another, they flow like a liquid because they can slide easily past each other. When you squeeze, roll, or agitate them, the "atom chains" will get entangled and form a solid! Substances like oobleck are referred to as "non-Newtonian fluids" because they do not have the normal properties of either solids or liquids.
Download your free Science eBook with this experiment and 14 others by clicking below and entering your e-mail address. You'll immediately receive an e-mail that will have the link to the eBook! If you would rather not be an e-mail subscriber, "like" us on Facebook and then send us a private message to claim your FREE eBook.