Mini Bow & Arrow Set (with free printables)
When I saw this idea for making a tiny bow and arrow set, I knew this would be a fun activity to do at Big Brother's camping party! I adapted it slightly to fit our needs.
These mini bows REALLY work (the arrows will shoot at least 5 feet), though they are a bit tricky to operate for little ones and require some serious fine motor control. But the kids (and the dads, especially) seemed to love this addition to the party.
Here's what you'll need:  Skill Craft Sticks (the ones with the little notches all over them), dental floss, cotton swabs, and sandwich-size baggies. Also, be sure to print out these labels to attach to the individual baggies. I printed them on the Avery Shipping Labels (8163:  2″ x 4″ with with 10 labels per sheet).
Print out this instruction sheet to make it even simpler.
1. Soak the craft stick in water for an hour or so. I put this baby jar on top of it so that it would absorb the water and not just float at the top.
2. Pull a strand of dental floss and tie it on one of the far notches on one end of the craft stick. Carefully bend the craft stick until it makes a "bow" shape. Pull the floss tight and wrap it around the notches at the other end of the craft stick.
To make the arrows, cut one of the cotton-tipped ends off of the Q-Tips. Then on the cottonless end, cut a small slit in the center of the Q-Tip so it makes a small groove in the back of the arrow.
You can kind of  see what I mean in this picture…
I was just going to leave them how they were…but it was for a little boy's birthday party and it just seemed weird to have pink arrows. I had some brown spray paint that the homeowners before us left, so I lined a pan with foil and sprayed the q-tips. I sprayed one side brown and let it dry and then turned each over and sprayed the other side brown.
When you're ready to use it, just put the dental floss through the slit on the end of the arrow. Then pull back and release! They really do work and will go at least 4-5 feet!
Be sure to print out these labels to attach to each baggie!
If you are going to use this as an activity for a party, I would suggest printing out (and laminating) this instruction sheet.  Then lay out all the supplies and encourage an adult to help each child. Also, you'll want to have some type of target that they can aim the arrows at to keep the kids from aiming at each other! I just took some butcher paper and painted several targets on it to hang up.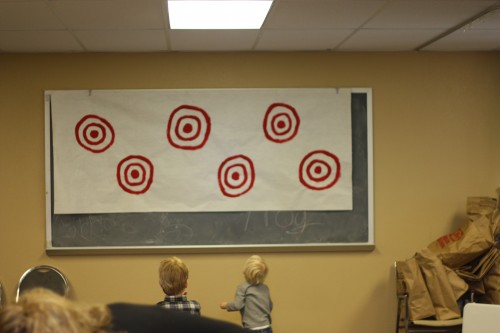 If you're planning on having tables set up with activities for the kids to do, you can also print out  this table stand label. Just print out, cut, bend in half, and trim!
Have fun!