Kindergarten Readiness: 33 Ways to Prepare Your Child for Kindergarten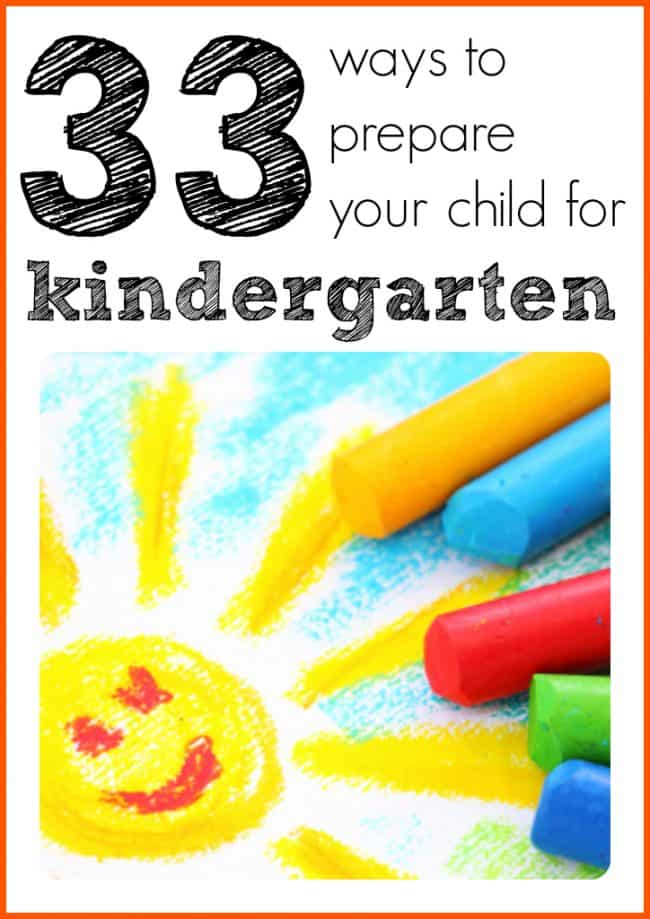 Is My Child Ready For Kindergarten?
First published June 2012.
A few months ago I shared a post called "71 Things a Child Needs to Know Before Kindergarten" based entirely on an end-of-the-year assessment given in the Pre-K program where I student taught more than 6 years ago. This post sparked a heated debate and there were a lot of strong opinions expressed in the comments. Because of the questions and concerns from this post, I thought it would be helpful to create a checklist for parents with some things YOU can do to prepare your child for kindergarten. And the best part–no flashcards or drill-and-practice memorization!!!!
Kindergarten Readiness Checklist 
These are simple, everyday things that you can do with your child for just a few minutes at a time to ensure that he/she is ready for school!
Just so that we are clear… If your child cannot do everything on this list, it does not mean that he/she is not ready for kindergarten!
You are the parent and you must decide what you feel is best for your child. Public schools are equipped with professional educators who will take your child where they are and help them grow and learn from there. Although it would certainly make things easier for your child (as well as the teacher and the other children in the class), this is NOT a pass/fail kindergarten entrance exam! This is just something that should guide what you do with your child prior to kindergarten.
So here's the list. Print it out and hang it on your refrigerator, office, or wherever you can be reminded of the simple, easy ways you can help your child succeed. :)
SAMPLE KINDERGARTEN READINESS CHECKLIST
Click on the button above to download and print your copy of kindergarten readiness skills.
Thoughts? Any tasks I should add or take away???
Getting Ready For Kindergarten  
I have written an ebook with my friend Becky from Your Modern Family exploring this topic much more thoroughly. You can purchase the Kindle version or the paperback version!