4 Quick and Easy Meals to Make with Frozen Foods
This is a sponsored post by Kroger. All opinions are 100% mine.
It's a brand new year…which means probably somewhere on your list of resolutions is the goal to eat healthier. Often times, however, or grand intentions get smeared with the demands of reality and we continue to run through the drive-thru far more often than we would like.
Frozen veggies are a great alternative to fresh produce, especially this time of year when none of the fruits and vegetables are in season. I had the opportunity to purchase several frozen products from Dillons, our local Kroger affiliate grocery store.
I want to show you how to make four healthy meals using items you can find in the freezer section! All of these meals can be prepared in about 10 minutes or less! You can find even more great recipes and simple meal ideas over at the Freezer Fresh Ideas website!
1. Chicken Stir Fry
1 pkg Birds Eye frozen stir-fry vegetables (12 oz.)
Tyson's Grilled & Ready Chicken Breast Strips
4 cups prepared Minute Rice (obviously brown rice would be ideal and much healthier, but I was in a pinch and grabbed the Minute Rice for a super quick meal)
Low-sodium Soy Sauce to taste (or liquid aminos if you have that on hand)
Follow the directions on the Minute Rice box to prepare the rice. Put a little oil in a skillet and heat the chicken until it is cooked through. Add the veggies until they are sautéed. Serve the chicken/vegetable mixture over rice and add soy sauce to taste!
2. Crockpot Meatball Veggie Stew
1 lb. frozen Italians meatballs
1 24. oz. jar spaghetti sauce
4 cups (32 oz.) chicken broth
1 package frozen Birds Eye cut green beans
1 cup of frozen carrots (picked out of the large bag of Birds Eye Normandy Blend veggies)
1 cup of frozen zucchini (picked out of the large bag of Birds Eye Normandy Blend veggies)
1 cup of frozen squash (picked out of the large bag of Birds Eye Normandy Blend veggies)
My whole family was pleasantly surprised by this meal. I honestly had never considered using meatballs in vegetable stew before and it was amazingly delicious! All you have to do is dump all the ingredients in the crockpot! The Birds Eye bag of Normandy Blend veggies worked out perfectly…I just picked out a cup of each of the carrots, zucchini, and squash, and kept the rest of the veggies we didn't use (broccoli and cauliflower) in the bag, putting it back into the freezer to use for another meal!
3. 10-Minute Fajitas
These super yummy fajitas take 10 minutes (or less!) from the time you open the freezer until the time you put dinner on the table!
Here's what you'll need:
Tyson Grilled and Ready Frozen Chicken Breast Strips
1 pkg. Frozen 3-Pepper and Onion Blend
Tortillas
1 pkg. Birds Eye Steamfresh Fiesta Lime Corn
Sauté the package of onions and peppers in a little bit of olive or coconut oil until tender. Add the chicken and heat until cooked through. Put the mixture on warm tortillas and roll them up! Serve the corn as a side or add it into the fajitas!
4. Stouffer's Lasagna and Frozen Veggies
This might not be the most ideal meal for the health-conscious but it gets your family around the table and is certainly way better than fast food! Pop it in the oven (or microwave) and then serve with a bag of Bird's Eye Steamfresh veggies for a super simple meal that everyone will love!
What is your favorite simple and healthy meal?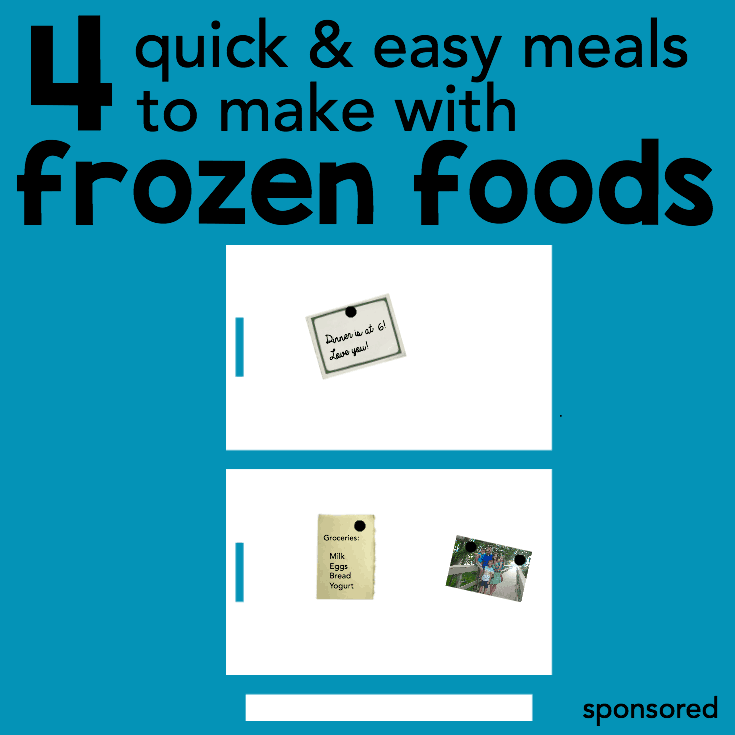 This is a sponsored conversation written by me on behalf of Kroger. The opinions and text are all mine.