5 Ways to Make Reading Fun
How do we as parents make reading fun for our kids instead of something that they dread?  We are sharing five fun ways to encourage more reading in your home!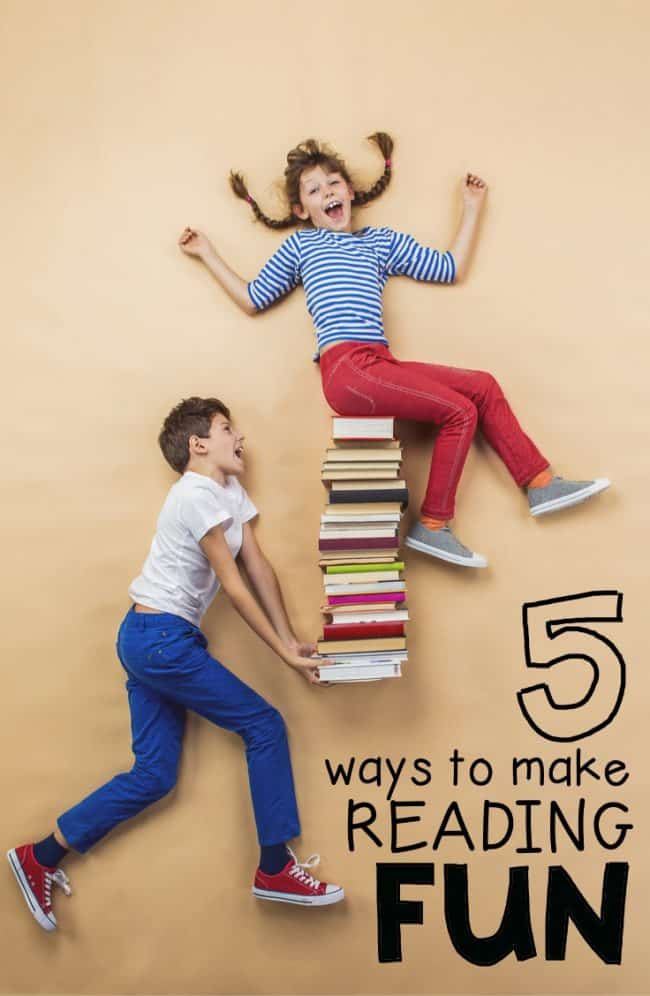 As parents, we all know that reading should be an important part of our child's daily routine. Not only is it a great way to bond with our children (of any age), studies have shown that 20 minutes of reading a day has significant long term benefits for children that include:
expanded vocabulary
higher test scores
broadened worldview
lower levels of stress, depression, and dementia later in life (University of Liverpool study)
instilling a life-long love for reading and learning
With the advent of technology, children are reading for pleasure far less than earlier generations. Reading is one of my absolute favorite hobbies, so I have a hard time stomaching this unfortunate trend. But all hope is not lost…reading "old-fashioned" books can still be tons of fun!
We are here to share some new and engaging ways to encourage reading in your home, whether you read aloud to your child or whether he/she is reading independently. By implementing some of these suggestions, your children will be begging to read instead of dreading reading time!
5 Ways to Make Reading More Enjoyable for Your Child
1. Take your books outside.
Don't make reading just an indoor activity, take a blanket and a stack of books and head outside. One of my favorite places to read is the hammock on our deck. A change of scenery can make a world of difference in our motivation to read!
2. Host a kids book club.
One of my friends hosted a book club for her second grade daughter and a few of her friends this summer and I thought this idea was absolutely genius. I think this would be especially helpful as kids get older and are reading chapter books!
Coordinate with a handful of your child's friends and their parents on a schedule that works for you, whether it is monthly, bi-monthly or quarterly. If you are looking for books to get started, talk to the librarian at your child's school or your local public library for book suggestions. I also love looking at Goodreads for book reviews.
Planning a book club for my boys is on my list of things I want to do this winter when outdoor activities slow down!!!
3. Read in the dark.
There is something fun and mysterious about reading once the house is quiet and the lights are off. Whisper to your child that they can get out the flashlight once the lights are out!
4. Play dress up or act out the book.
Young children will find this activity super fun but don't be surprised when older kids want to join in on the fun as well. Are you reading a book about a princess? Break out the princess dresses. Pirates? Add a patch to your eye. There are so many ways to make books engaging to kids!
One of my mentor teachers shared an idea with me that I used in my first grade classroom that the children LOVED. I got bundled up in my hat, coat and mittens to read the book Tacky the Penguin. Once I began reading the part about Tacky doing "splashy cannonballs", I pulled out a spray bottle from behind my back that was filled with water and sprayed all the kids. I will never forget the squeals and laughter from that read-aloud…and I'm pretty certain they will remember that every time they read Tacky the Penguin.
5. Make it a family affair.
Not only do kids need to read themselves, they need to see YOU reading. Boys especially need to see their fathers reading. And kids need to be read aloud to, long after they are able to read to themselves. One of my favorite parts of the day with my boys (who are 7 and 9) is reading aloud to them right before bed. And anytime our nighttime routine is rushed and we have to skip the read-aloud, my 7-year old is nearly in tears with disappointment.
How do you make reading fun in your home???
If you are interested in learning about more tried-and-true strategies for teaching your child to read, check out my eBook I Can Teach My Child to Read.

More helpful reading resources:
Originally published on August 31, 2017