9 Books that Say "I Love You"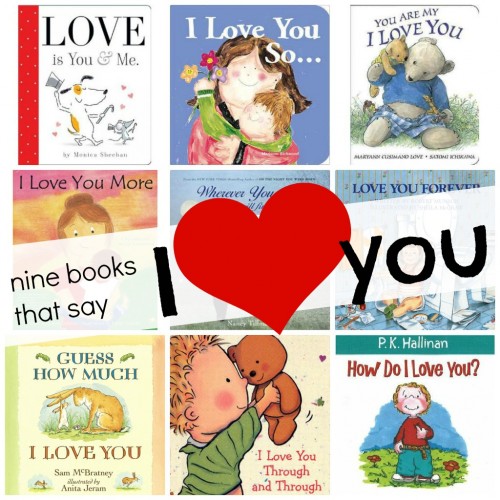 Books are one of my favorite gifts to give my children–especially books that tell them just how much I love them. What better gift could there be to give this Valentines Day than a book that says "I love you!"…especially when you get to snuggle up and read it together. I've shared several of my favorite books that express the love a parent has for a child below. Although most of these are applicable to boys and girls, there are a few that are written more for boys (since that is all I have experience with). :)
How Do I Love You? by P.K. Hallinan
I bought this book for Big Brother for Valentines Day when he was just over a year old. It is still one of my favorite board books because it reminds me so much of him and his little personality (the only one I could find online, however, was a paperback version). It is variation of the beloved Elizabeth Barrett Browning sonnet, "How Do I Love You Thee" with an adorable spin that is perfect for a little boy. It starts off, "How do I love you? Let me count the ways. I love you on your very best and very worst of days." A simply perfect way to affirm the unconditional love you have for your ornery little boy! :)
I Love You Through and Through by Bernadette Rossetti Shustak
This cute, simple board book is a perfect read-aloud for your baby or toddler. "I love your top side. I love your bottom side…your inside and outside." Not only is this book great for telling your child how much you love him/her, it is also great for teaching body parts and opposites! :)
Guess How Much I Love You by Sam McBratney
 This beloved classic shares the adorable "one-upping" of "I love you's" between Little Nut Brown Hare and Big Nut Brown Hare. Little Nut Brown Hare thinks he's won the game at the end when he tells Big Nut Brown Hare that he loves him all the way to the moon. Once he falls asleep, Big Nut Brown Hare responds, "I love you all the way to the moon…and back." A precious book for every household!
Love You Forever by Robert Munsch
 This is one of my all-time favorite Children's books. The day after we brought Big Brother home, I sat on the floor and read him this book while holding him in my arms. I bawled my eyes out. Seriously…it is precious and perfectly captivates the love a mother has for her son. There is something about seeing your child peacefully sleeping that pulls at a Mama's heartstrings…no matter what trouble they got themselves into earlier in the day! :)
Wherever You Are My Love will Find You by 
Nancy Tillman
This beautiful and eloquently-written picture book will feel like poetry as it rolls off your tongue while reading it aloud to your child. The purpose of this book is to make the child listening to feel deeply loved. The illustrations are magical and fantasy-like which are also very captivating. I actually prefer this book to her first book (On the Night You Were Born) because I feel it so beautifully articulates a parent's love for her child. It is also an appropriate book for children who are separated from a parent (because of relocation, divorce, deployment, or even death).
You Are My I Love You by 
Maryann Cusimano
Another wonderful rhyming read-aloud! I adore this book for so many reasons, but especially because it distinguishes the differences between a parent and child while illustrating how each needs the other ("I am your quiet place and you are my wild"). As a mother of two young boys, sometimes I feel like I am living with two little Martians…they are SO different than I am and love to roughhouse, wrestle, scream, and shout. But I need that variation in my life probably almost as much as they need a little quiet and calmness in theirs. :)
I Love You More by Laura Duksta
I just purchased this book at the book store a few days ago to give to my boys for Valentines Day. One of their favorite bedtime games to play is the "I love you more than…" game. From "I love you more than all the air in the world" to "I love you more than Angry Birds",  I've heard nearly everything between sweet and silly! I saw one copy of this book on the shelf and knew I had to buy it. :)  It is super sweet…and just like love, it doesn't end (which ! It flips around at the back to represent the unending love a parent has for her child.
I Love You So… by Marianne Richmond
This book affirms the unconditional love we have for a child no matter what. If our child is sick, we still love him. If he is misbehaving, we still love him. Despite any circumstance, we will always love our precious child. Written as a rhyme, this too makes a great read-aloud. This book is intended for both boys and girls (and even includes pictures of Dad), despite the fact that there is only a little boy and Mom on the cover. It would also be great for adoptive families since the author uses the words "I loved you since we first met" instead of "since you were born."

Love is You and Me by Monica Sheehan
This cute board book will definitely make you smile. The simple illustrations paired with the inspiring message makes this book a keeper. The rhyming words share how each person is special and unique…and so is their love!
What is your favorite "I love you" book???