Bean Sensory Tub for Toddlers
It's Day 2 of our 31 Days of Indoor Fun for Toddlers challenge and I am recycling a very old sensory tub for Little Sister. The beans in this tub are over 4 years old and were last used for our Hide-and-Seek Alphabet Puzzle activity! I just keep them in a plastic container with a tight-fitting lid and they are still perfect for sensory tub play!
Important Safety Note:  If your toddler still puts items into his/her mouth, please do not attempt this activity. Even if you think your child has overcome the oral fascination phase, please make sure that you are supervising this activity 100% of the time to ensure that no dry beans end up in his/her mouth, as they could pose a choking hazard.
All you need for this activity are some measuring cups/spoons and some dried beans. I believe ours are pinto beans…but again, I've had them for over 4 years so I can't be sure. I also had previously put some foam numbers in there that have found a permanent place in the bean tub. We haven't started working on number recognition with Little Sister quite yet, so they were just in there for the color. :)
Also, I love using a shower curtain liner whenever we do something inside that might get a little messy. I can gather the edges of the liner and then dump the beans back in the tub…or bundle it up and take it outside to shake out.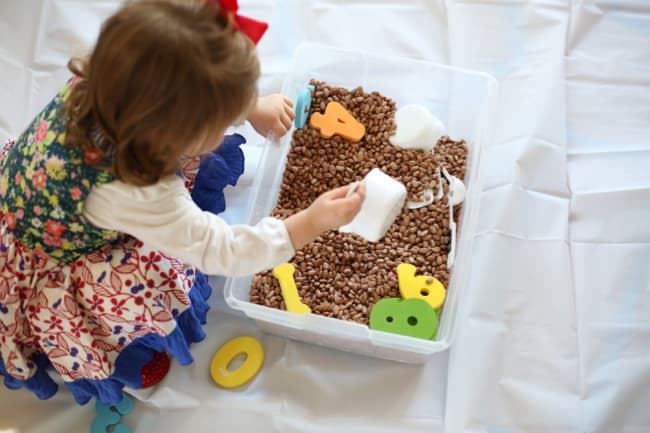 This was Little Sister's first experience with a sensory tub and I was a bit hesitant as she just recently stopped putting things in her mouth. Much to my surprise, she didn't attempt to put a single bean in her mouth!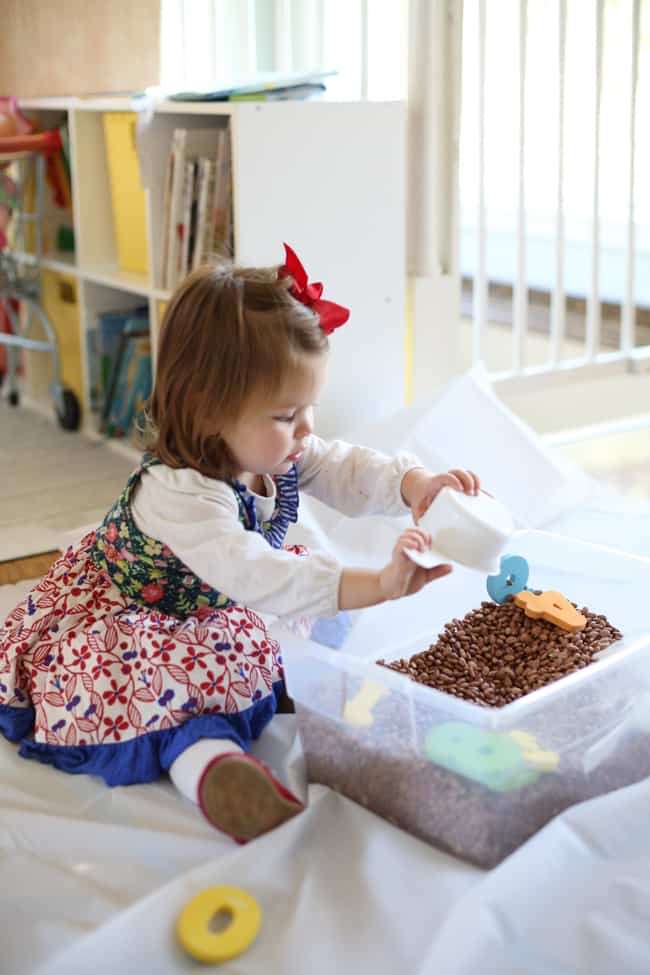 To say that she loved it would be an understatement. She bawled her head off when I finally tore her away from the bean tub so that she could take a nap!
My friend Rachel affectionately refers to the toddler years as the dump-and-fill stage. Children love the act of dumping things out of a container, filling it back up, only to dump those contents once more. This is exactly what Little Sister did over and over again with her measuring cups.
Little Brother decided he had to get in on the bean tub action too. They had a blast playing together. :)