Christmas Tree Stencil Art
Post by Contributing Writer Amy
This tree is perfect for toddlers and preschoolers to do together using a cereal box stencil and easy dabbing painting techniques. Sticky gems and glitter glue provide for some fun fine motor practice, plus preschoolers get to work on their cutting skills by adding presents under their tree with wrapping paper scraps. We did the project with friends and it was hard to say which age group liked it best!
You will need:
Cereal Box
Pencil or Marker
Scissors
Thick white paper
Masking tape or painter's tape
2 or more shades of green paint
Paint pallets or paper plates
Anything you can use to create different textures when painting. (Crumbled up paper works well, too.)
Sticky gems (You can find them with scrapbooking stickers in craft stores.)
Glitter glue
Gold paper or fun foam
Wrapping paper scraps
Glue stick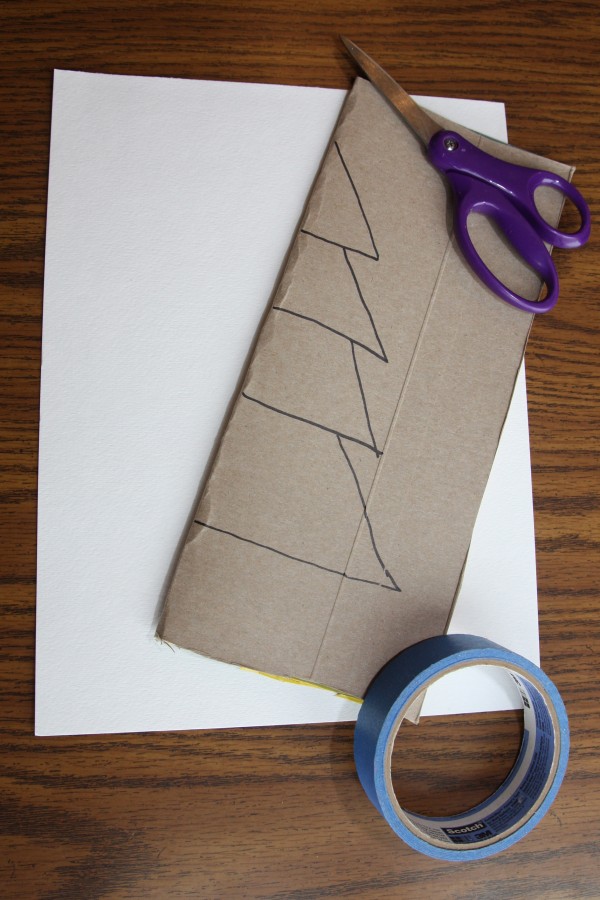 Cut off the front or back of your cereal box. I made three stencils so I had one for each child, but it could easily be reused as well. Fold the cardboard in half and draw half a tree on it.
Cut it out, unfold your new tree stencil and tape it to the paper. For a toddler, you will probably want to tape it to the table as well.
Set out the paints with texture painters of your choice.
Let the kids start painting in the stencil by dabbing with the different painters. We talked about how we wanted it to look spiky like pine needles. I said "Dab! Dab! Dab!" with baby sis while painting and that helped her not smear it. We used three shades of green paint so each child could have one and pass them around without waiting.
When the stencil is filled in with all the different shades and textures, carefully peel off the stencil and let the paint dry.
When the paint is dry, it's time to decorate the tree! There are a lot of options here, but we used sticky gems and glitter glue. While they were sticking and glittering, I cut stars out of gold fun foam left over from another project and that became the finishing touch on their trees.
Last, we cut squares and rectangles out of wrapping paper scraps and glued them under the tree for presents. The preschoolers really like cutting on their own and piling up presents under the tree. For my toddler, I just smeared glue along the bottom of the tree and let her put the paper on. You can finish it off by writing their name and the year at the top if you'd like.

It's just as pretty as the real thing! If you can part with it, you could frame it for a grandparent gift or deliver it to another special person in your child's life. We have older neighbors who absolutely light up when we knock on their door with some new art for their fridge. It's an easy way to let your child experience the joy of giving this Christmas.
Amy is a former reading and third grade teacher as well as a mother to three little girls with big personalities. She believes joy can always be found in playing, learning, and ice cream.