Comfort Gray = A Happy Room!
This is an unusual post for me. I obviously don't normally share decorating ideas on my blog, mostly because I am not very good at decorating! But I was so excited about how our recent master bedroom makeover turned out that I just had to share it with you!
To give you a little background, we have lived in our house for over two years now and had nothing on the walls in our bedroom…not one single picture or decoration. We have worked on sprucing up most of the other rooms in our house, but always neglected our bedroom. We spend quite a bit of time in our room, especially since this is normally where we watch TV after the boys are in bed (so we can be upstairs if there are any issues with little boys staying in their rooms). :)
We painted the room "Comfort Gray" by Sherwin Williams. When we painted it on just one of the walls at night, I was a little worried because it looked sort of sage green. Once we painted it on all the walls, though, it looked great and just what I was hoping for! Depending on the time of day, sometimes it looks bluish-green, sometimes it looks gray, and sometimes it looks a really pretty and subtle green. It is now one of my absolute favorite colors…I'm thinking about painting my dining room this same color as well!!!
With the exception of a rocking chair (bought by my husband at an estate sale prior to our wedding) that I painted white and reupholstered, the furniture stayed exactly the same.
Of course, I didn't think to take a "before" picture. But here's one of the ONLY pictures I found taken IN our bedroom prior to the makeover. We rearranged the furniture, so the bed in the picture below is actually on the same wall as the dresser in the picture at the top. And yes, that is me hiding behind my laptop. :)
I originally wanted a mirror or some type of decorative wall hanging for behind the bed…but I couldn't find what I was looking for. I saw an idea for using embroidery hoops and pieces of fabric on Pinterest, so I decided to give that a try. I bought some cheap embroidery hoops at JoAnn's and painted them white, then picked out a few fat quarters of fabric in bright-colored prints. Not bad for less than $20 and an hour of my time! I love it because it brings in some pops of color without being too permanent!
Over Memorial Day weekend, Michael's had all of their wall frames priced at 40% and then they had an additional 25% off coupon. I bought 6 11×13 frames to put black-and-white family photos in. It's hard to see in the pictures, but they are white beadboard frames. I love being able to lay in bed and look at all of our most treasured photos!
We spray-painted our window hardware white (which used to be bronzy-brown). I bought a white sheet set for $20 at Big Lots and used the fitted sheet to put over our box springs. We have done away with all bed skirts in our house because we have a problem with brown recluse spiders and they like to climb up bed skirts. I cut up the flat sheet into 4 equal strips and hemmed the edges and the top to make our curtains!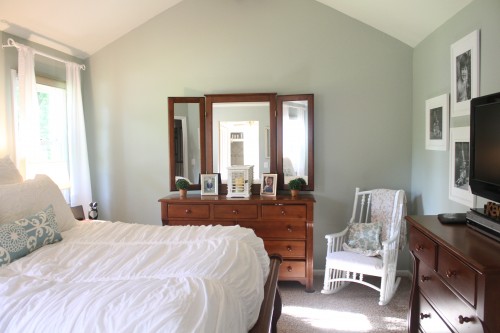 This is the doorway to our room and to our closet and bathroom area. I found this chicken wire frame at a local barn sale (which apparently is a little crooked). I painted some mini-clothespins the same color as the wall and made a tiny pendant banner using scrap pieces of fabric from the embroidery hoop project. This will be for displaying love notes and recent pictures. :)
I found this plantation shutter hurricane at a local warehouse sale. The small topiaries on each side were bought at Michael's for $3.99 each (with a coupon).
Prince Charming says that this is now my "tranquility room" and I think he is right!!! I love it! As weird as it sounds, I actually wake up in a better mood with a bright and cheerful room…which is saying a lot for me, since I am so NOT a morning person!
What fun decorating projects have you done lately???