The Cutest Father's Day Photo Idea
First things first…if you are my husband and you are reading this post. Shame on you! I told you not to even think about looking at the blog until after Father's Day! :)
For everyone else…
I know I'm cutting it a little close, but I wanted to share with you a cute DIY Father's Day gift for Dad this Father's Day!
Father's Day Picture Idea
The idea of this Father's Day gift is to dress your children up in their dad's clothes and take a picture! Prince Charming wears a suit and tie to work EVERY day, so a tie (and dress shoes) was an obvious choice for us. Perhaps your child might want to wear Daddy's favorite jersey or baseball hat!
Oh, and if you don't know how to tie a necktie (like me) and need some instructions, this YouTube video is helpful! :)
I used PicMonkey.com (you can sign up for a free trial) to add the text to this Father's Day picture based on the lyrics of the song "I Want to Be Just Like You" by Phillips, Craig, & Dean (if you've never heard this song, get the tissues ready!).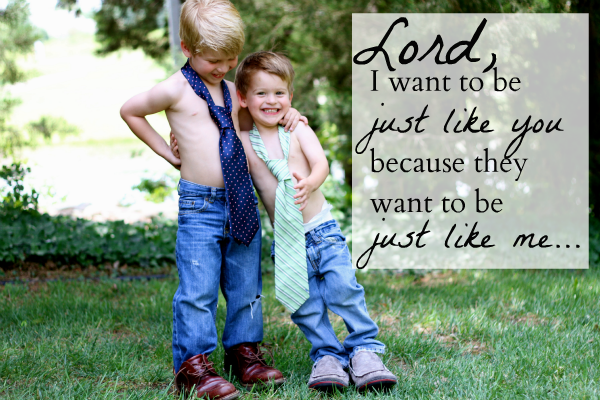 I used the font "La Belle Aurore" for the cursive writing and "Cardo" for the serif writing. I can't decide whether to print this Father's Day gift in color or in black-and-white. What do you think???
Print Your Father's Day Photo
Once I have got this Father's Day picture printed , I'll be putting this in a tabletop frame so that Prince Charming can keep it at his desk at work!
I'm also planning to give him these adorable photos…
What are you and your children planning to do for Father's Day this year?
First published June 2012.