Father's Day Handprint Poem

Father's Day Handprint Poem
My husband is one of the hardest working people I know. I remember marveling at his ability to pretty much fix anything when we were first married. Although he wears a suit and tie to work each day, he is always working around/outside the house or agreeing to help a friend. Because of this, and because there are plans for a wooden launchpad to be made this summer for our backyard zip line, I thought these cute Handprint Work Gloves and Father's Day handprint poem would make the perfect practical yet sentimental Father's Day gift.
You can download the free printable poem here (with a wood background) or you can copy and paste and print it out on your own. I just ask that if you choose to share the poem elsewhere, please credit and link this post. :)
Father's Day Poem
"Your hands are tough and strong
They work hard every day
To take care of our family
In oh-so-many ways.
With your hands you labor
And provide for all our needs.
But your hands are never too busy
To stop and do good deeds.
Your hands are there to help
To catch me when I fall
To hug, tickle, and embrace
You answer every call.
I love to hold your hand
To feel your fingers cover mine
I feel so safe and loved
Every single time.
And when you place my hand in yours
And lead me in a prayer
I see my Savior's love in you,
I know and feel his care."
© 2016 ICanTeachMyChild.com
Father's Day Handprint Art
Here's what you'll need for this gift:
Work Gloves (Set of 5…share with friends)  :)
Acrylic Paint
Printable Poem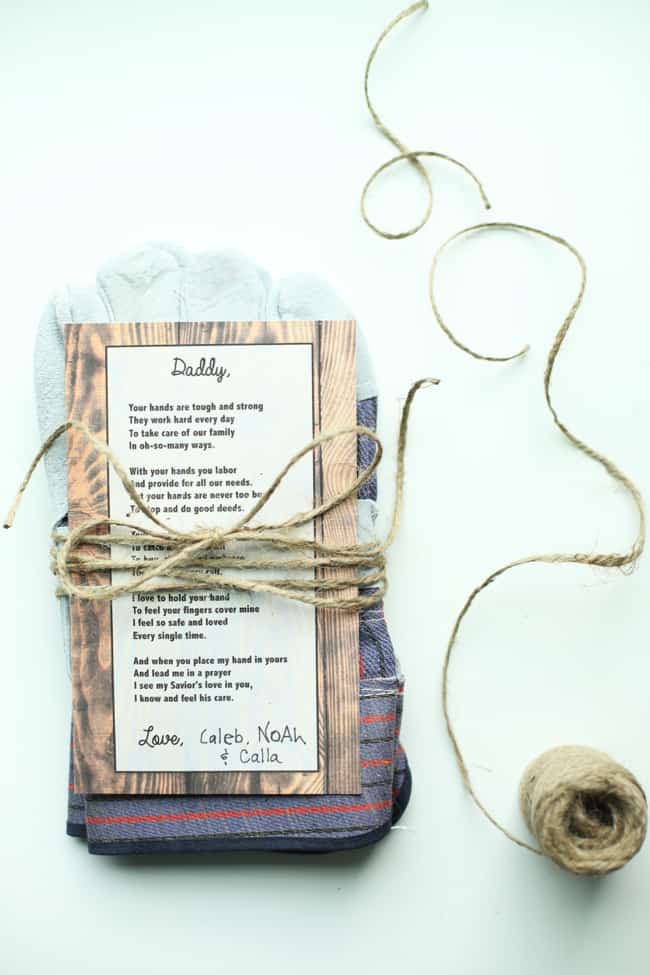 Father's Handprint
The instructions are pretty simple… just use the foam brush to paint the hand of your oldest child (using acrylic paint only…other types of paints won't work) and carefully place on top of the glove, pushing their fingers gently down into the glove.
You might need something to hold the thumb of the glove down as it has a tendency to want to fold over on itself. Let each handprint dry before adding the next smaller handprint!
YOU MAY ALSO LIKE: Best Handprint Art Ideas
Why not add an engraved hammer (in your child's handwriting) to complete the gift!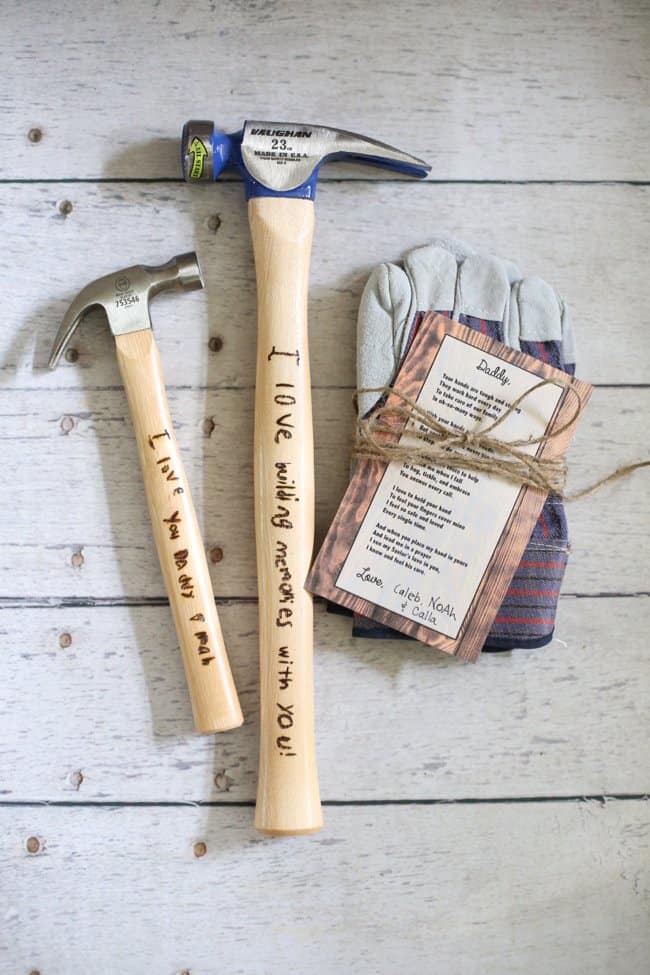 This post was first published 2016.