Personalized Engraved Hammer for Dad
Personalized Father's Day Hammer
We're sticking with a building theme this year for Father's Day. We already made some Handprint Work Gloves using the kids' handprints and now we are making an engraved hammer for Dad.
I originally saw an engraved hammer like this on Etsy but they were sort of pricey (especially since I was unsure of the quality of hammer) and I also thought it would be way cuter and more meaningful to have the words written in our children's handwriting instead of some pre-made font. Surprisingly, the wood engraver was super cheap and I'm already brainstorming other ways I can use it!
How To Make An Engraved Hammer
Here's what you'll need:
A hammer with a wooden handle (we bought a nice heavy duty one from Lowe's and this smaller one, so that each boy could do his own)
Ultra Fine Point Permanent Marker
Masking Tape
PLEASE NOTE:  The wood engraver is for ADULT USE ONLY. At no time should your child have any contact with the wood burner/engraver. It gets EXTREMELY hot. Do this step when your child is sleeping or his/her eyes are glued to the TV….anything to keep your kiddos away from this very hot piece of equipment.
How To Engrave The Hammer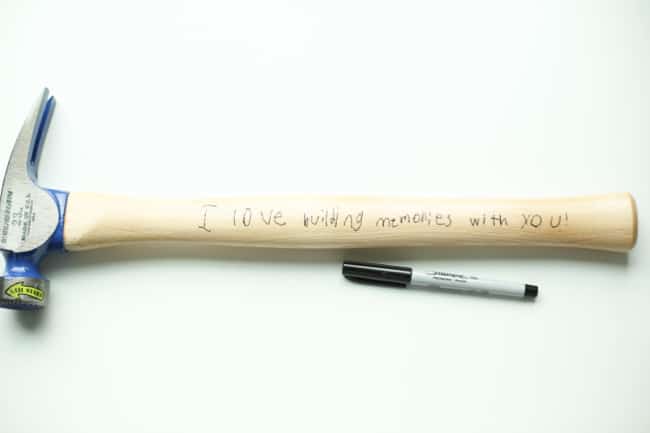 1. Have your child use the ultra fine tip marker to write the message on the wooden handle. We chose "I love building memories with you" for the larger hammer and "I love you, Daddy" for the smaller handle.
2. While children are a safe distance away, follow the instructions on the package of your wood burner to heat it up. Trace over your child's handwriting to burn it into the handle of your hammer. You'll have to play around with it a bit (I tested it out on a wooden clipboard). I found it worked best to use the universal tool to make straight lines (by laying the whole tool on it) and then using the fine tip for the curves. Again, this tool should be used by an adult only and should not be handled at any time by children.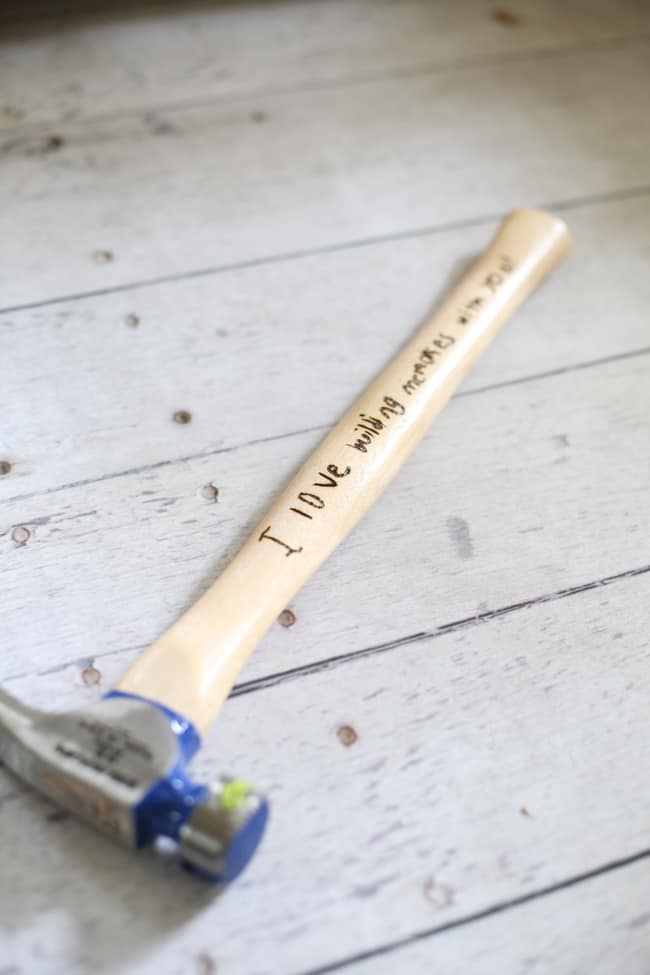 All done!
These hammers are something that will be cherished for years to come, I am sure. Plus, they will be put to good use here in a few weeks when my husband and kiddos make a wooden "launchpad" for our backyard zip line.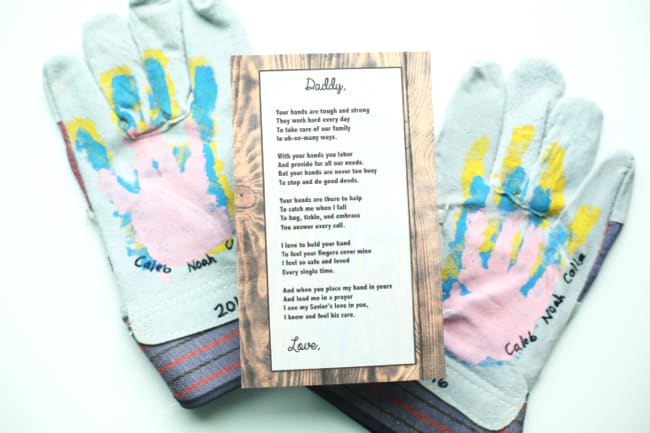 First published June 2016