Freezer-Friendly Crock Pot Turkey Curry Chili
I am just dipping my toes into the world of curry, thanks to this recipe from my mom. It is delicious, can easily be doubled or tripled to feed a crowd, and is only 185 calories per serving!!!! Oh, and did I mention it is freezer-friendly and it goes in the crock pot? THIS. IS. A. WINNER.
Serves 4-6
1 lb. ground turkey
1 cup grated/shredded carrots
1 can diced tomatoes (do not drain)
1 can tomato soup
1/4 cup lite coconut milk (canned)
1 tablespoon minced garlic
1 tablespoon dried minced onion
2 1/2- 3 tablespoons curry powder
Shredded coconut for a garnish.
*You can add garbanzo beans and/or chickpeas as well
Serve over coconut rice and/or with naan bread. I think these sautéed sugar snap peas go well with it also!
(print the recipe here)
1. Brown the ground turkey over medium heat until cooked through.
2. Grate 1 cup's worth of carrots.
3. Add your diced tomatoes and tomato soup (I didn't have any tomato soup on hand, so I used tomato sauce and it turned out just fine–tomato soup is just slightly sweeter).
4. Add your curry powder. If you are making it for your family with young children, I would err on the side of less spice (1 1/2 to 2 tablespoons, perhaps). You can always add a little more at the end if it isn't spicy enough.
 5. Add 1/4 cup of coconut milk (save the rest to make coconut rice to serve it with).
6. Now that everything is in your crockpot, stir it all together.
7. Cook on low 6-8 hours or on high for 2-3 hours.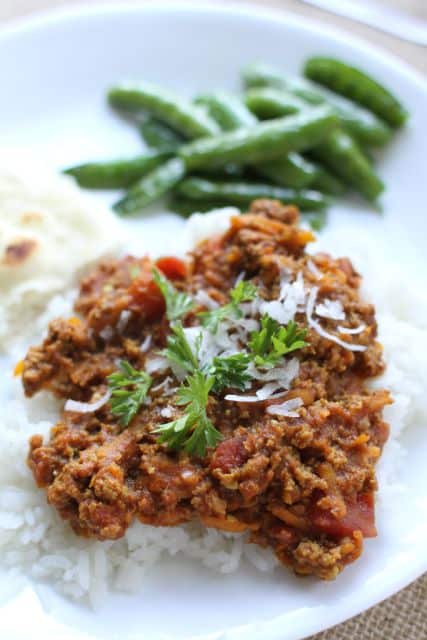 Spoon over a bed of coconut rice, sprinkle with a little coconut, and prepare for the deliciousness! One of my children accidentally switched my crock pot to "boil" at some point during the cooking time (which I didn't even know it could do)…so it turned out slightly thicker than it normally would.
To freeze:  Brown ground turkey until cooked through. Add remaining ingredients and mix in a gallon size freezer bag. Freeze. When ready to cook, thaw in the refrigerator overnight and then toss in the crockpot in the  morning!