October around here means trick-or-treating, trunk-or-treat, AND Halloween parties at school! Whew! At the elementary school where my children attend, they have parent-planned parties for Fall (Halloween) and for Valentine's Day. I have been in charge of at least one of my boys' class parties for each of these holidays for the last seven years, so I have done plenty of Google searches for Halloween Class Party Ideas!
Despite that I used to teach first grade, I am way out of practice for commanding an elementary school classroom. Add to that my complete and total fear for speaking in front of other adults (i.e. my child's teacher and other parents) and you have a recipe for anxiety (as lame and ridiculous as that sounds). I have created what I would have LOVED to have had myself seven years ago…which is a COMPLETE document telling me exactly what activities to do, what snacks to serve, what materials I need, and how to prepare.
I have created this Halloween Class Party download. Literally everything you need is included in this bad boy: Master supply list, class party schedule, printable activity cards for each station, printable Halloween BINGO and more! I am charging only $1.99 for the entire document! You can literally print it out, make a parent sign-up for materials, follow the checklist for prep work, and you are ready to roll! NO STRESS!!!! You can purchase it below (or go to my shop):
And if you would rather not spend the $2, have no fear and read on! I am including almost all the information in this post as I did in the download…it's just not quite as conveniently formatted.
Over the years I have come up with some games, activities, and snacks that tend to work well in K-2 classrooms. Some of this is from my own experience and some of this is based on recommendations from the teachers. For example, one teacher requested that snacks NOT be part of the center activities and rather all the kids could eat their snacks at the same time. From that point on, I always serve snacks at the end for the kids to eat together.
Halloween Class Party Ideas
Divide the class into 5 equal groups. Take a few moments to explain each of the following stations and then start the timer for 6-7 minutes per group per station.
These little cuties only take a few minutes to make and are inexpensive (especially if you buy cheap toilet paper). Find all the details here.
Station Activity #2: Pumpkin Towers (or Pumpkin Shapes)
This activity is pretty self-explanatory. All you need is a box of toothpicks and several bags of Mellowcreme Pumpkins. Encourage the children to make various shapes and structures!
This activity takes a little bit of prep work before the party (hot gluing a spider web pattern onto the pre-gessoed canvases), but it makes for a really fun art project to take home! And don't limit kiddos to using watercolors black only…they can make a sunset or rainbow spider web if they so choose!
Station Activity 4: Candy Corn Relay
For this activity, divide the small group into two even teams (2-3 kids per team). Have the students line up behind their team's larger bowl of candy corn. Give the first child on each time the plastic spoon and on your command, scoop candy corn into the spoon and walk it to the team's container on the taped line. The first group to fill their container wins!
Station Activity #5: Halloween BINGO
Our printable BINGO game uses pictures only, making it perfect for students who aren't able to read or recognize all numbers quite yet! This is currently only available by purchasing the Halloween Class Party Plan, but I plan to create a dedicated post for just the BINGO game and will update when I do so!
Suggested Snacks:
1-2 Fruit or Vegetable Options (Bags of Apples, Jack-O-Lantern Mandarins, carrots and celery sticks)
1-2 Savory Snacks (popcorn, trail mix, cheese stick ghosts)
1-2 Sweet Treats NO CUPCAKES (sugar cookies, chocolate donut spiders, brownies, Pumpkin Patch Dirt Cups)
Individual Drinks (bottles of water, milk cartons, juice boxes, Capri Sun)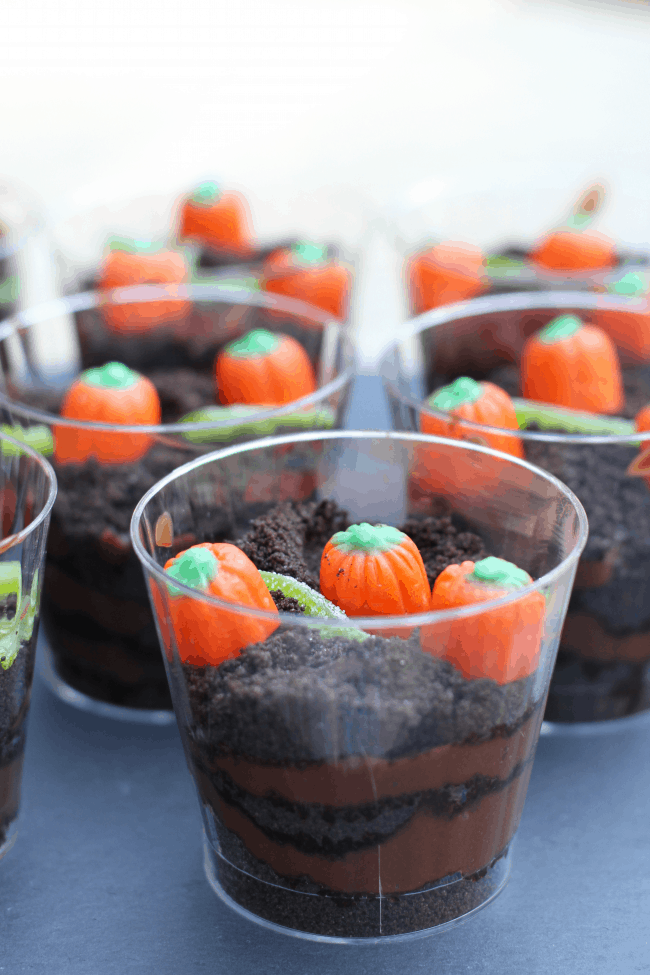 That's it! That's all you need to throw an awesome class party for Halloween!
And here is a peak into some of the activity cards for the party plan!