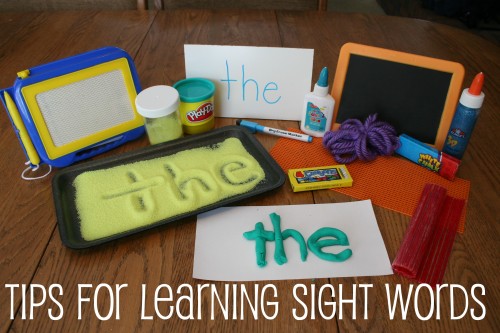 Guest Post by Julie of Make, Take, & Teach 
After your child learns the letters and sounds of the alphabet, the next step in learning to read is learning sight words. Being able to recognize sight words is important because these words make up between 50-70% of the words we encounter in text. Sight words are "service words" that must be quickly recognized in order to read fluently. Many of these words cannot be "sounded out". Learning sight words can be fun! We know children learn best when we use multi-sensory strategies. This means that children are more likely to learn and remember when we provide opportunities to use as many of the senses as possible when we teach a skill. Try using these multi-sensory activities to teach your child sight words.
Make a word with glitter glue. Wait until the glue hardens, and have him/her trace the letters while saying the letter name and then the word ("t" "h" "e"- "the").
Have your child use glue to make the word and then place yarn over the glue.
Use Playdoh to make a word.
Make a word with Wikki Stix. Wikki Stix are wax covered sticks that can be easily bent into shapes. Bendaroos also work great and can be found in most stores.
Have your child trace words in sand. I use meat trays and craft sand. Local butchers often are willing to give you a few meat trays for free.
Plastic canvas can be purchased at a craft store. Have your child place paper over the canvas and write a word with a crayon. When the canvas is taken away, the word is "bumpy".
Of course, shaving cream is a popular multi-sensory activity!
Incorporating movement into learning sight words is also fun. Try having your child jump, hop, clap or tap out the letters of a sight word.
When my daughter was little, we even made an old fashioned hopscotch game with chalk in the driveway and wrote our sight words in each box.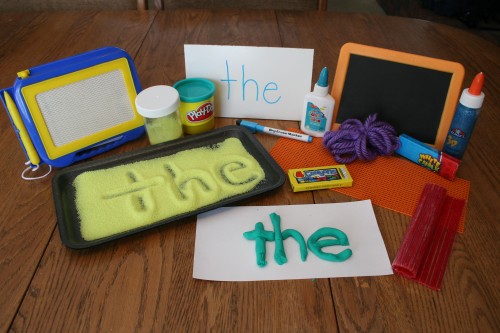 Here are multi-sensory cards for the first 25 Dolch sight words for you to use with the above activities.
Playing games with the sight words is also fun for children. Try playing the Rats! game– children love it! To make the game, simply print the activity single to double-sided. To play the game, scatter the cards word side down on the table. Take turns turning over a card and reading the word. When a player picks the Rats! card, all the cards are returned to the pile. Play continues.
Julie is a Teacher Consultant and the owner of Make, Take & Teach. Visit Julie's blog at www.blog.maketaketeach.com or her website at www.maketaketeach.com for more free reading related activities and informational handouts.