In an effort to have more energy and feel better, I'm trying to eat healthier (and exercise, though I haven't been doing very well with that lately). I even gave up my beloved Dr. Pepper…for one full week so far! We normally have a relatively healthy meal when we eat dinner at home, but lunches are another story. I usually (a) didn't eat lunch and just snacked while drinking my Dr. Pepper or (b) ate what the kids ate (hot dogs, macaroni & cheese, quesadillas…they normally eat a fruit and vegetable as well, but I always left that part out for myself).
But I finally found something that I LOVE…and it takes less than 5 minutes to throw together!!! And it's less than 200 calories!
Here's what you'll need: baby spinach, an apple (my favorite right now is the Pink Lady kind), almonds, and Raspberry Bliss Salad Spritzer dressing.
1. Slice the apple.
2. Chop about 2-3 slices into small pieces. I give the rest of the apple to the boys for lunch.
3. Throw some baby spinach on a salad-size plate along with the almonds and apple pieces. Spritz several times with the dressing…don't feel guilty, it's only 1 calorie per spritz!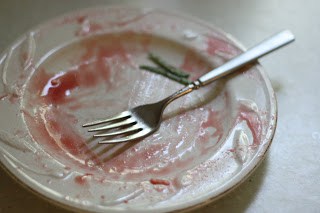 Yum.
What's your favorite "healthy" lunch???