Name and Sight Word Smash
I love activities that can be easily differentiated for the content/level of multiple children. Our "Name and Sight Word Smash" did just that–we worked on a few simple sight words with Big Brother and the letters in Little Brother's name.
The idea for these baked cotton balls came from Play Create Explore and Making Boys Men. Once they were baked, we added our own spin to make this a learning activity and aggression gross motor exercise in one!
Here's what you'll need:  flour, water, cotton balls, food coloring (optional), a permanent marker and some kid-friendly hammers (we used from two of our toys).
1. Follow the directions for baking your cotton balls (in the flour/water mixture) over at Play Create Explore. I chose to do just one color to make the dishwashing and cleanup easier. :)
2. Once baked and cooled, use your permanent marker to write your letters and/or words on the top of each cotton ball.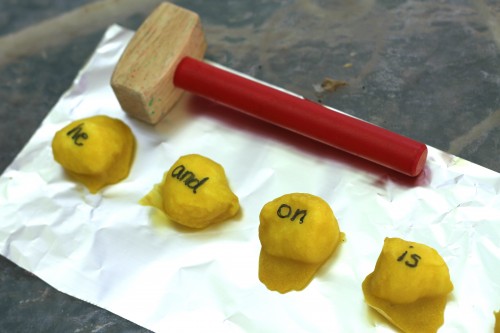 3. Give each child a kid-friendly hammer/mallet/pounder.
4. Ask your child to say each letter/word as they hit the cotton ball.
Big Brother saying the word "on".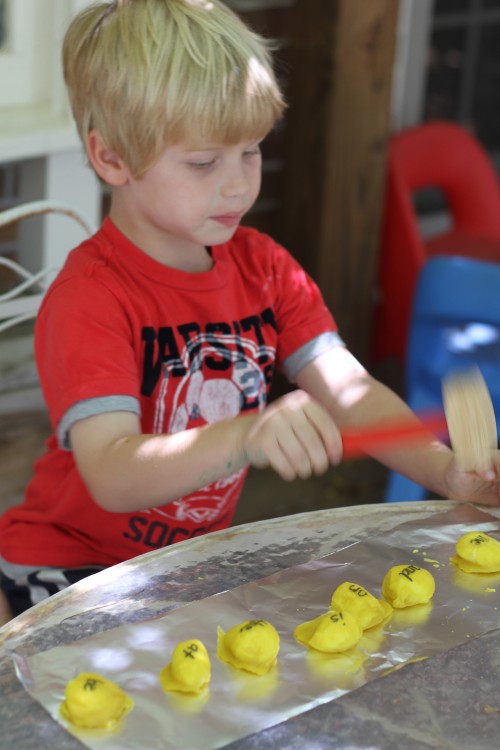 The baked cotton balls are unique because they crunch and smash, but they don't come apart (with reasonable pounding, anyway). Their texture is interesting!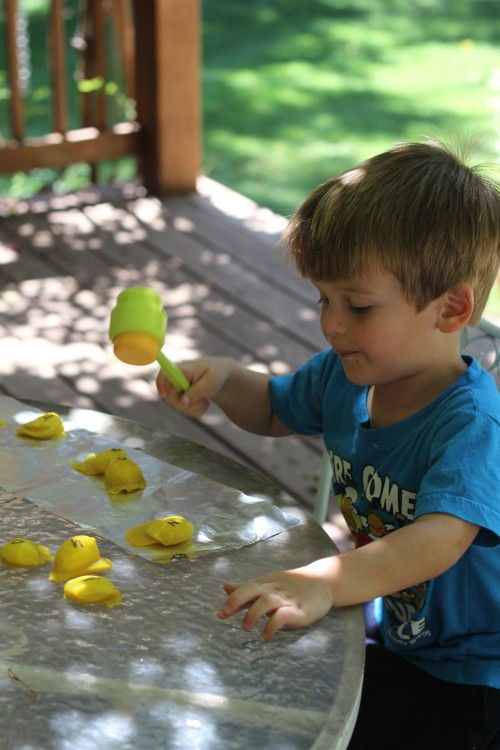 Continue until all the cotton balls are properly pounded and smashed!
Little Brother was repeatedly tempted to take a bite out of his cotton balls (as was our dog). This picture reminds me of the movie Elf when Buddy starts popping cotton balls into his mouth like candy. :)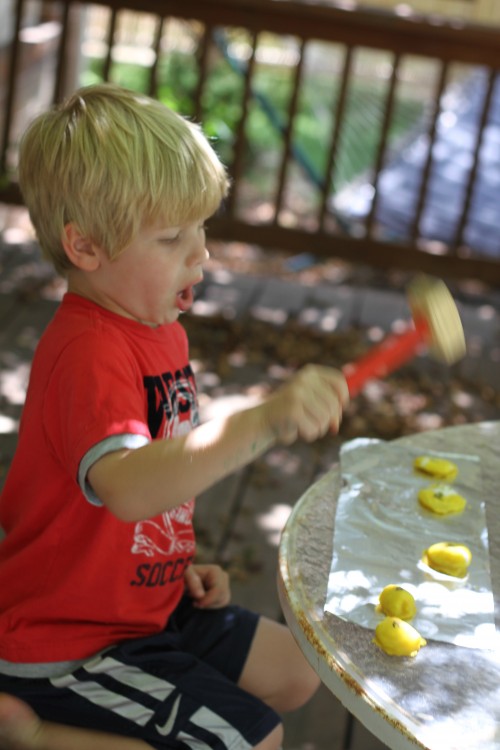 This was a great activity for getting out excess energy!
This was an enjoyable kinesthetic experience for both of my active boys!!!