Phonological Awareness Activities for Preschoolers Printable
These phonological awareness activities for preschoolers are perfect for helping set your child up for future reading success!  With no materials required beyond these printable cards, this is perfect for doing with your child on-the-go!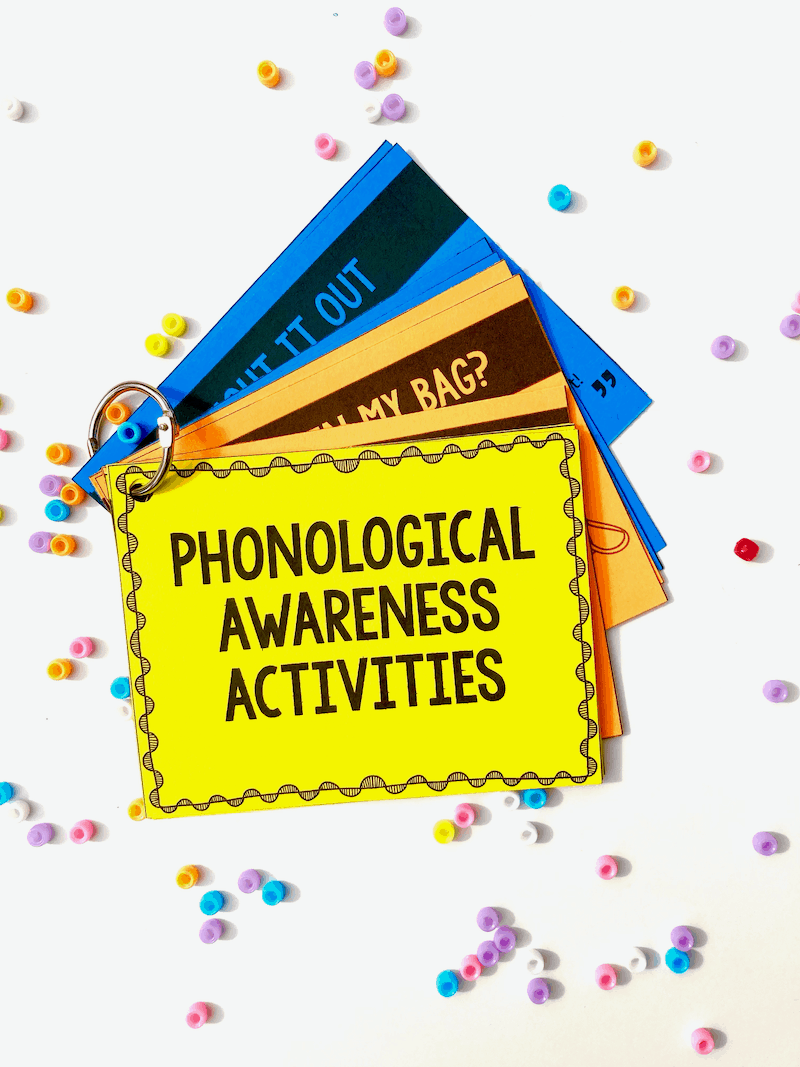 The more we learn about how our brains learn to read, the more apparent it is that phonological and phonemic awareness play a HUGE part in that process!  A longitudinal study published in 2014 revealed that phonological awareness training in kindergarten resulted in better reading comprehension in 9th grade (Kilpatrick, 2015)!
What are phonemic awareness activities?
From multiple studies, including studying brain imaging while reading, researchers have disproven the age-old myth that reading is a visual process. Yes, we must learn to associate letter sounds (phonemes) with their visual representations (graphemes) in order to become proficient readers.  But this does not account for the aspect of automaticity required in proficient readers.  Through orthographic mapping, which is "the process our brains use to store printed words in long-term memory".  Multiple studies have shown that "students with better phonological awareness skills are more proficient at the process of orthographic mapping than those with weaker phonological awareness skills" (Kilpatrick, 2015).
So, what does this mean for us as parents?  This means that we must be intentional about introducing phonological awareness activities to our preschoolers and kindergarteners because it makes a HUGE difference in their long-term reading success!  This also means that we must ensure that they are receiving explicit phonemic awareness and phonics instruction once they are in school.
Phonological Awareness Activities for Preschoolers
I've put together these task cards of phonological awareness activities to do with your preschooler or kindergartener.  I am offering these for FREE for the next week or two!
I printed these cards (front and back) on bold-colored cardstock, cut them, and then hole-punched them and added a binder clip!  Throw the cards in your car or set them beside the bed and work through the activities together with your child, a minute or two at a time.  Each activity progresses and is based on the phonological development of children (recognizing rhymes is an easier task than segmenting the sounds in a word, for example).
In order to access the printable, please enter your first name and email into the fields below and you will be immediately directed to the printable.  By signing up, you are agreeing to be added to one of both of my email lists.  If you have any issues downloading the activities, feel free to email me at [email protected].
Pssst….I also have to let you in on a little secret.  I am currently working with Terry Clinefelter of Pathways to Reading (a phonemic awareness and phonics curriculum I used when I taught in the classroom that is absolutely AMAZING).  We are working tirelessly to adapt the curriculum to make it accessible and usable for homeschoolers and I could not be more EXCITED!!!  Pathways to Reading Homeschool will be an invaluable resource for so many families!  Our Basic Foundational Reading curriculum (Kindergarten equivalent) will be available in August 2021 and then first and second grade levels will be available in 2022!  Be sure to check the box for Pathways to Reading to be notified of product availability and be added to our email list!!!
Enter Your Email to Access the Download: