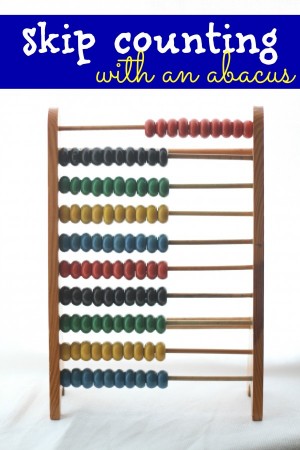 Using an abacus is an excellent way to make skip counting tangible for young children. If you're not familiar with the term "skip counting", it is just another way to say counting by 10's, 5's, 2's, etc. This is an important skill for primary-aged children because it helps them recognize patterns in numbers (even, odd) and will eventually help them learn to count coins with greater ease. (FYI: I would not attempt to teach a child to skip count until he/she has fully mastered counting by 1's to at least 50.)
By adding the physical element of manipulating the abacus, children can comprehend the action of skip counting more accurately than teaching using only rote memorization. Whenever we can include multiple learning styles, a child tends to retain that information much easier.
One of my favorite resources to use to teach skip counting, along with the abacus, is this Intelli-Tunes CD from Ron Brown. There are so many great songs on this CD, but my favorite are "10's Lift Off" (which you'll hear in the background in the video below), "Let's Count by Five", and "We're Counting by Two".
We combined the abacus and the Intelli-Tunes CD to practice counting by tens in this video:
The other two songs (counting by 5's and 2's) are pretty fast, so we'll have to do some practicing before we attempt either of those with the abacus.
Don't forget: If you don't have an abacus, learn how to make your own here!
Please note: The links in this may be affiliate links. Please read my full disclosure policy.