These Teepee Dirt Cups are a super fun snack for kids at Thanksgiving and also a great way to introduce children to the various types of shelters used by nomadic Native American tribes!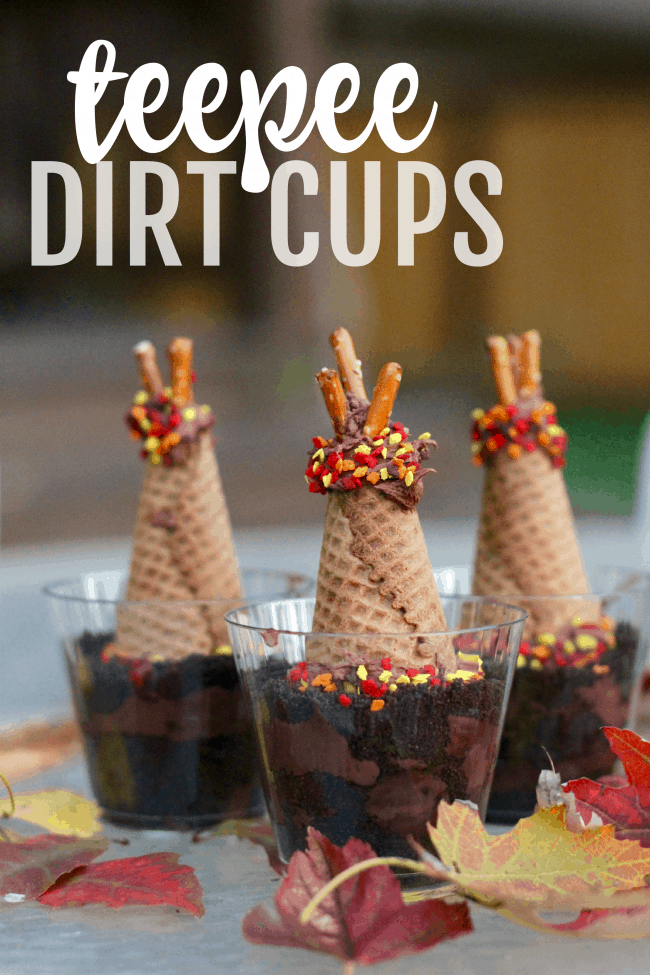 Our 
Pumpkin Patch dirt cups
over on my new site
Paintbrushes and Popsicles
went crazy this fall. I decided to try a Thanksgiving spin and there is a super secret special addition that is perfect for children learning about the first Thanksgiving!
But first and foremost, can I just tell you how confusing it is to spell teepee? From my research, "teepee" can be spelled any of three ways "teepee", "tepee", or "tipi". "Tipi" is actually considered to be the most factual while "teepee" is the most widely used. So teepee it is! :)
When learning about the Native American culture, teepees are one of many types of shelter that various nomadic tribes used. The Wampanoag Indians (the ones who helped the pilgrims for the first Thanksgiving) did not use teepee shelters. They created wigwams, small round houses made of wooden sticks, hides, and brush (see examples here). If this bothers you, feel free to try to recreate an edible wigwam instead. :)  I personally think it is a good opportunity to talk to our kiddos about how different tribes of Indians lived differently and emphasize that although the Indians at the first Thanksgiving did not use teepees, many other tribes did.
These dirt cups also contain a super secret ingredient that you can't see:  a Swedish fish. One of the things that the Wampanoag Indians taught the Pilgrims was to put fish underneath the dirt to make it more fertile and help their crops grow. So kids who are assembling these teepee dirt cups can put a Swedish fish in their dirt just like the Pilgrims and Indians did!
Ingredients for Teepee Dirt Cups:
1 package of Oreos
Box of Chocolate Pudding
Milk
Chocolate Frosting
Pretzel Sticks
Directions:
Use a food processor (we love our Ninja) to pulverize the Oreos.
Mix the chocolate pudding according to directions. Let cool.
Layer the pudding and Oreo dirt into the clear plastic cups. Set aside.
Bury a Swedish fish into the "dirt".
Use a serrated knife to cut the tip off of the sugar waffle cones (large enough for three pretzels to fit in).
Use a knife or spatula to spread chocolate frosting over the bottom of the teepee (or top when using it for ice cream). Sprinkle on the leaf sprinkles.
Use a knife or spatula to frosting on the top of the teepee. Sprinkle on the leaf sprinkles.
Break several pretzel sticks in half and dip them in the chocolate frosting. Arrange the pretzel sticks in the hole of the waffle cone.
Place the waffle cone teepee on top of the layered dirt. Refrigerate until ready to serve.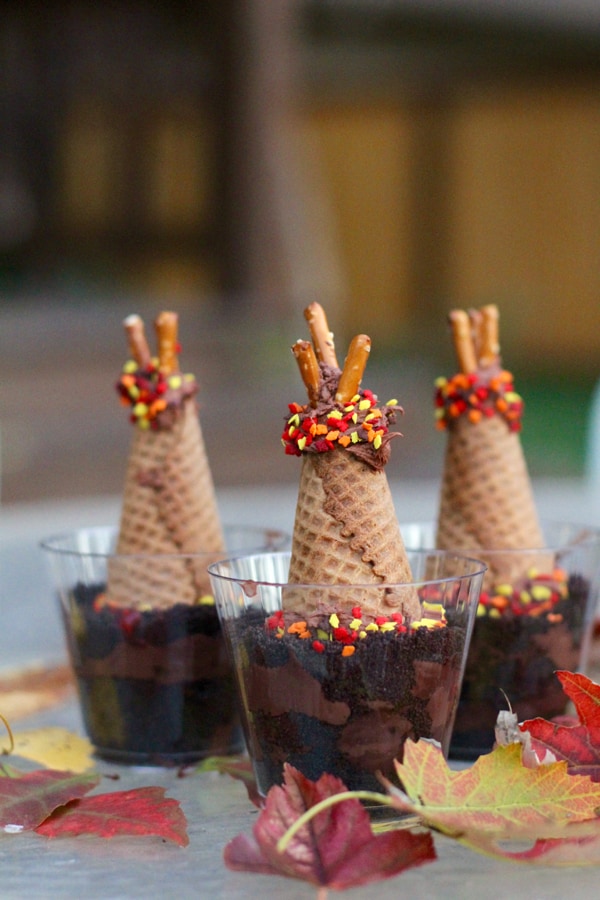 You might also like:
Originally posted November 9, 2015