Little Sister has been super excited about doing activities lately. Maybe it is because we did so many pumpkin activities for our 31 Days of Pumpkin Activities series that she is having withdrawals or maybe it is because she is just at the age where she is soaking up learning like a sponge. Either way, this Thanksgiving Alphabet Feather Match was a HUGE hit (and I am so glad because I am constantly trying to find fun ways to engage her with the letters of the alphabet).
I was originally planning on using a shoebox with some holes poked through with nails (similar to this idea from Frugal Fun for Boys and Girls) but when I went into my storage room to grab my feathers, I saw that I had this wood slice that had already been drilled! I originally used it to hold fruit skewer arrows for my nephew's baby shower and it has been in my storage room ever since!
Here's what you'll need:
Permanent Marker
Optional: Wood Slice andDrill /or Shoebox and nails, Glad Press 'n Seal Plastic Wrap
1. Gather your materials. Make duplicate alphabet stickers for each letter so that you can sandwich the feather in between the two stickers…this way your child can see the letter no matter which way the feather is pointing. I chose to do lower case letters on the feathers and capital letters on the wood slice.
2. Make 26 holes in either a shoebox (using a hammer and a nail) or drill holes in your wood slice. Write the corresponding letters above the holes.
I didn't want to have the alphabet permanently written on my wood slice, so I just covered it with Glad Press n' Seal plastic wrap first and then poked through the plastic with one of the points of the feather.
3. Let your kiddo start matching the lowercase feather to the capital letter on the wood slice.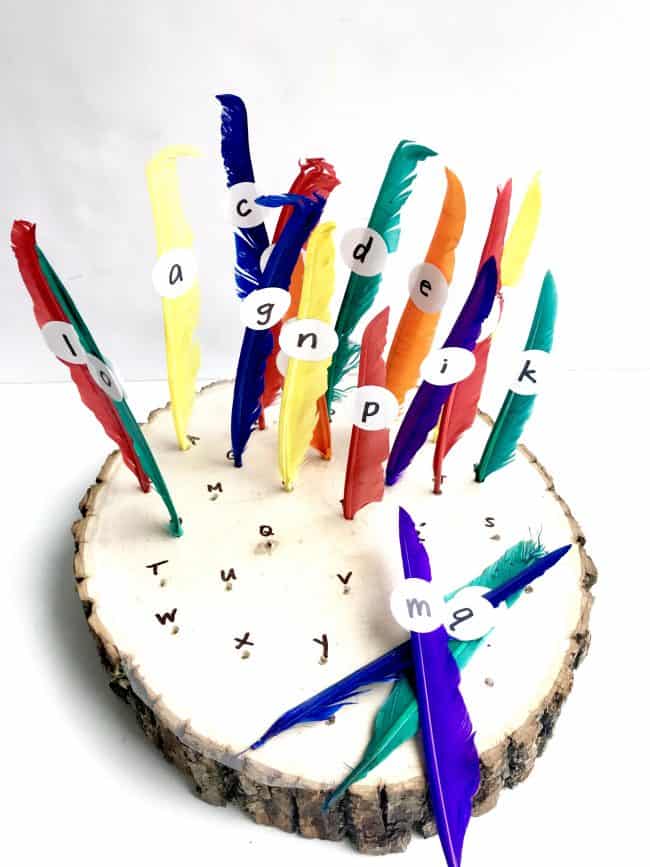 Check out more Thanksgiving activities here.
SaveSave
SaveSave
SaveSave
SaveSave
SaveSave