The Tale of Despereaux Book Club Ideas
Looking for activities to go along with the book?  We've got you covered with these hands-on ideas to bring your next The Tale of Despereaux book club to life!
We recently organized a Zoom book club for my first grade daughter and a few of her friends.  Obviously with our girls being only first graders, the moms read the book aloud to each of our daughters throughout the week.  We chose  The Tale of Despereaux by Kate DiCamillo as our first book club book.
We read the book over a course of about 5 weeks or so and met each Tuesday on Zoom (due to the pandemic) for a little activity and to discuss the books.  We dropped off all the materials for the activity on the porches of each friend prior to the Zoom meeting.
This book club turned out to be so much fun, even though they aren't currently meeting in person.  We will definitely be continuing for future books.  But here were some of the activities that the girls enjoyed doing while reading The Tale of Despereaux.  
To kick off our book club, I had a friend make these adorable cookies.  A mouse for Despereaux and an Eiffel Tower since the book is set in France.
Activities to go along with the book The Tale of Despereaux
"Stained Glass" Window
Materials:
Cheap 5×7 picture frames
Hot Glue and hot glue gun
Black hot glue OR black craft glue
Assorted colors of Sharpie markers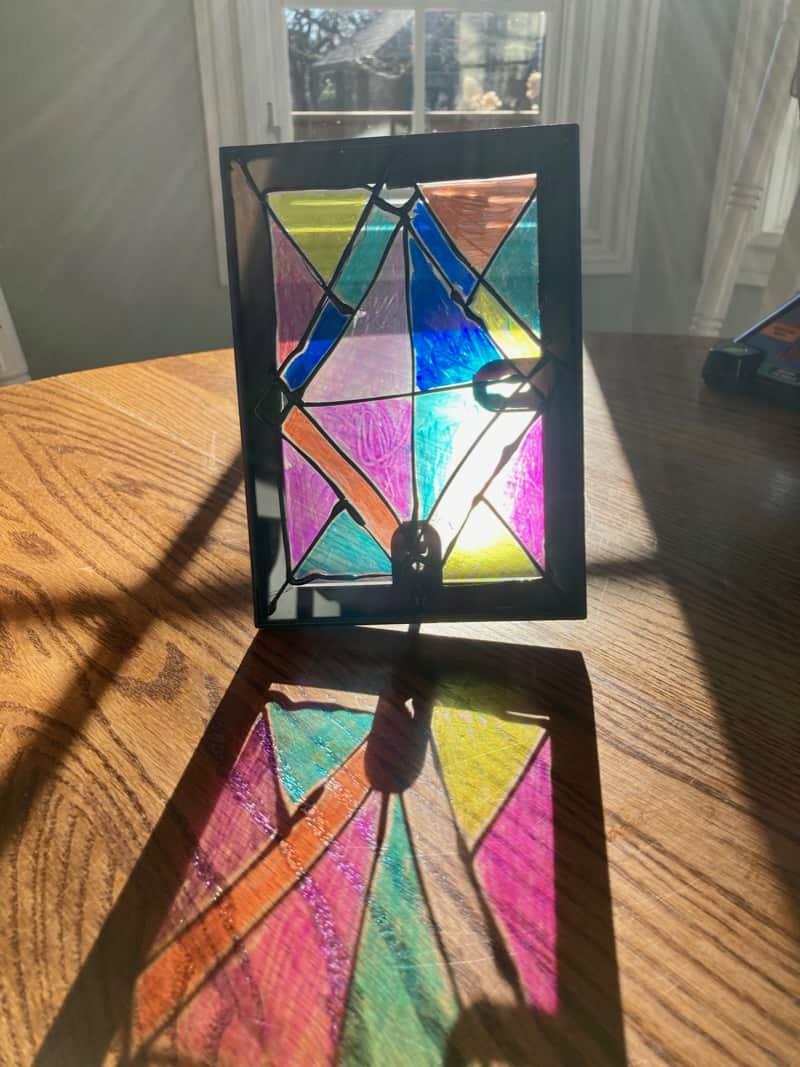 During the first part of the book, Despereaux is attracted to the light and he is especially attracted to the beautiful, colorful light coming from the stained glass windows in the castle.  For this activity, I bought cheap 5×7 picture frames at the Dollar Tree and then hot glued the glass to the frame.  I then used black hot glue to make a stained glass design on the glass and the girls used Sharpies to color in each window compartment, but would probably just use the black craft glue next time as it would be easier to work with.  I thought the end result turned out to be so beautiful!!
Mouse Box
Materials:
Small brown craft boxes from Dollar Tree
Various sizes of foam/felt/paper hearts to make Mouse Face and ears
Googly Eyes
Yarn for whiskers and tail
We made this craft a few days before Valentine's Day, hence the hearts used in the mouse (that can also double as a bunny…lol).  You just need a few different sizes of hearts in various colors.  You can use precut foam or felt hearts or just cut your own.  We cut a small piece of yarn for the whiskers but they were still too thick so we pulled apart the individual strands from the yarn piece and that worked perfectly.
Despereaux in the Dungeon Maze
Materials:
Paper Plate
2 Small Magnets
Wooden Dowel Rod
Picture of a Mouse
Printable Maze or
This idea is originally inspired by The Stem Laboratory.  You can find step-by-step directions here and even a printable maze to print and glue onto your paper plate.  Please note:  the link leads to the maze only.  You will have to print your own picture of a mouse.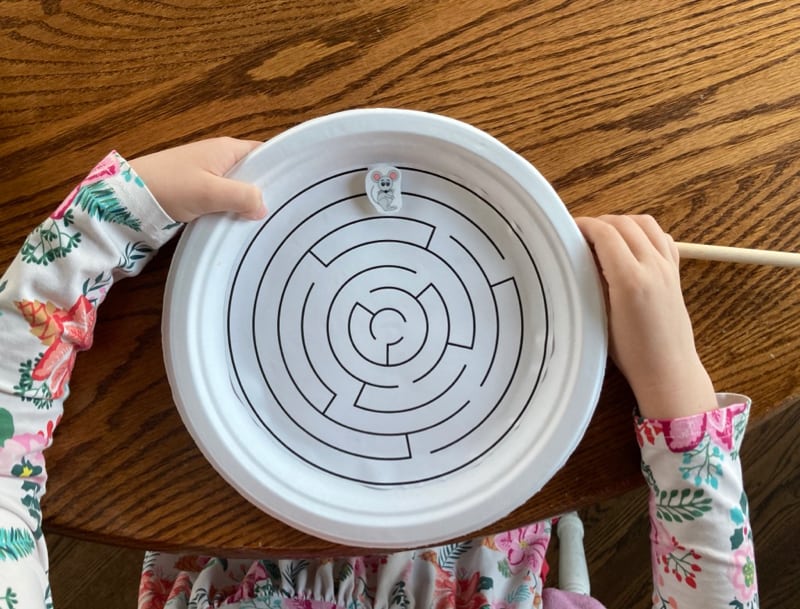 Paint Your Own Pottery:  Despereaux, Princess Pea, and the Castle
Materials:
Unfinished Pottery, Paint, and Paintbrushes from local store
One of the other moms generously planned this activity and it was the PERFECT culmination for our book club!  She purchased each of these unglazed pottery pieces from a local paint-your-own-pottery business.  The kit included the paint and the brushes and then we just had to take the painted pottery back to the store to be fired and glazed.  They turned out SO cute and will be a fun memory of our book club that the girls can keep in their rooms!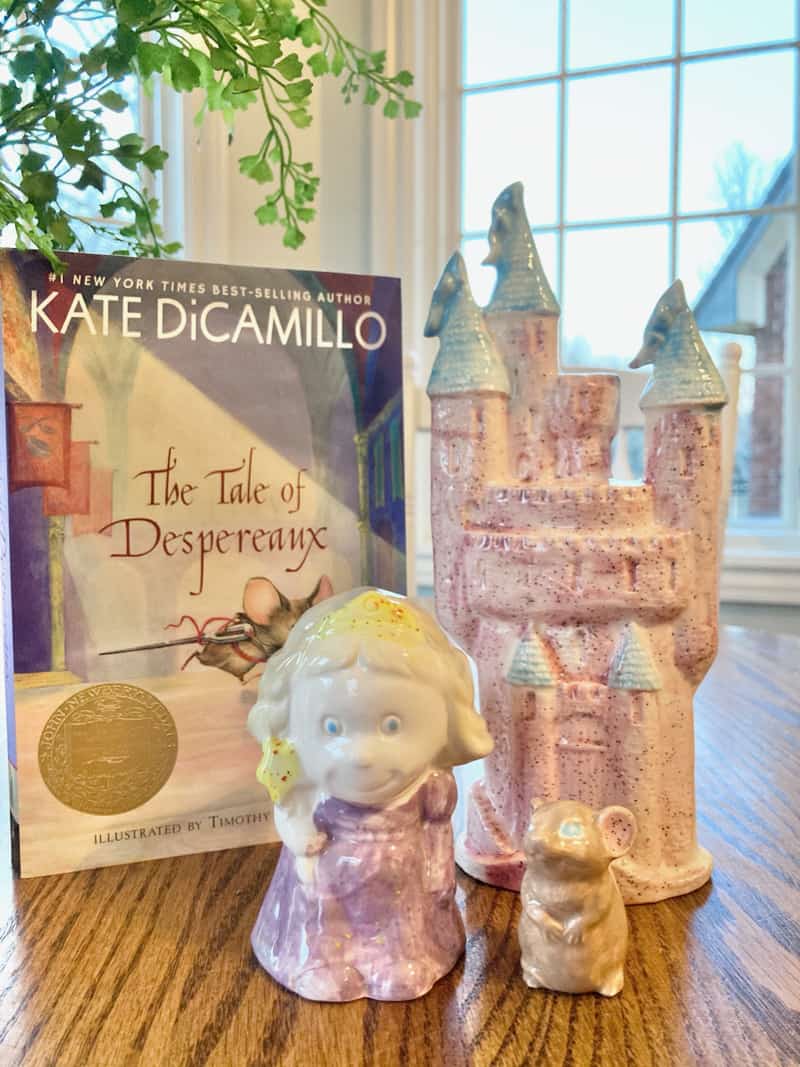 One thing we didn't get to do was make soup!  Soup (or a lack thereof) was such a big part of the story and I wished we could have incorporated my potato soup recipe somehow!
For our next book club, we have chosen the book Clementine so stay tuned for some fun activities!