Toilet Paper Roll Book (with pull tabs)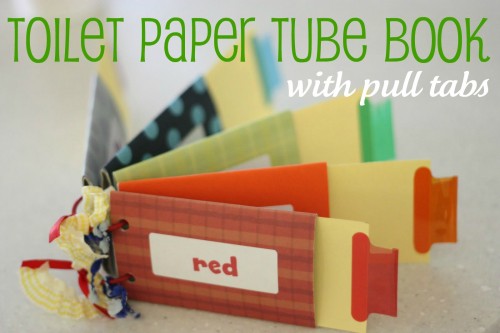 An amazing scrapbooking friend of mine (who has known me my entire life) made some adorable miniature scrapbooks for all of my little sister's friends for their graduation a few years ago. I had completely forgotten about them until I was in my sister's bedroom last week, hunting for some sunglasses to borrow. I was so excited to find her little toilet paper tube book because I just knew that we could do a million learning activities with these little books.
I chose "colors" for this particular book and I had everything on hand except for the binder rings.  I made it to use as an interactive book for Big Brother to cut out pictures of objects in various colors and glue to the inside pull-tab part of the book.  You could also follow these same directions for letters, numbers, shapes, and even pictures family members! It's extremely versatile, just like the Plastic Baggie Books.
Here's what you'll need:  lots of toilet paper tubes (one for every page), scrapbook paper, glue, 2 binder rings, scissors (or a paper cutter), and a set of multicolored file tab dividers. Optional:  return address mailing labels, decorative ribbon, and pictures of your kiddo.


1. Collect your toilet paper rolls, tearing off as much of the leftover toilet paper as you can. Apparently, Cottonelle doesn't tear off very well. 
2. Flatten and place underneath a heavy object overnight. I placed ours underneath our Bible basket.
3. Gather a piece of scrapbook paper in every size and cut it down to be exactly the same width as the toilet paper roll.
4. Use a glue stick to glue the paper over the flattened toilet paper tube.
Now get your file tab dividers…I happened to have a package downstairs with all my teaching stuff.
5. Cut the width to fit inside the toilet paper tube with the divider centered. Wait to cut the length until after you have the book put together.
6. Use a hole punch to punch 2 holes in each covered toilet paper tube.
7. Attach the binder rings.
8. Measure the length of the tab dividers to fit inside. Cut.
I used return address mailing labels (which I already had on hand) to print out the names of the colors.
I also took a picture of Big Brother wearing a shirt of each color, except purple…we don't own a purple shirt apparently.
All done and ready to add our collage in the inside tabs!
Now I just have to gather magazines, stickers, and pictures for Big Brother to cut out and glue on the corresponding color page!