Cloud Dough That Smells Like Birthday Cake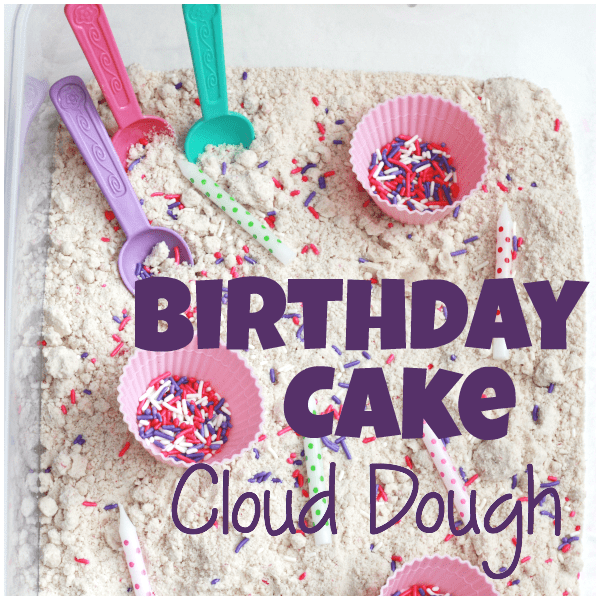 Post by Contributing Writer Amy
Cloud Dough
You will want to make real cupcakes to eat after playing with this cloud dough because it smells so good! It is fun for kids to help make, too. Just don't take too many photos of it before you let them play, or your might be "the meanest mom ever!" :)
The secret to getting the cloud dough to smell like birthday cake is… vanilla lotion. Specifically, Bath and Body Works Warm Vanilla Sugar lotion. Mmmmmm…. smells so good!
Cloud Dough Recipe
Ingredients:
8 cups all purpose flour
1 cup vegetable oil
1/4 cup lotion (does not need to be exact)
food coloring – optional
You can skip the food coloring unless you have an oil based or powdered one. I was going for pink cloud dough, but our water-based coloring just left pink specs in the dough which wasn't very exciting considering there were already sprinkles to add. Some people have used powdered paint with success, but I was trying to keep it as close to edible as possible in case the birthday girl (almost 2) tried to taste it.
How To Make Cloud Dough:
 First, add the flour to a gallon sized zipper sealed bag. That is what 8 cups of flour looks like! It was a good amount for all three kids to play with.
2. Next, add the oil and the yummy smelling vanilla lotion. We added about 1/4 cup of lotion, but don't worry about measuring it.
3. Zip up the bag and you are ready to squish, mush, and massage it until it's all mixed up! The kids liked this part almost as much as playing with the finished cloud dough. You can see the reddish swirls because we added the pink food coloring to the oil. Again, skip food coloring unless you have an oil based or powder food coloring.
4. When it looks crumbly like this, it's done!
5. Dump into a container, add candles, spoons, silicone cupcake liners and sprinkles. Later in their play, I added some jewels left over from our Valentine Station and they had fun using them as decoration and hiding them inside cupcakes as a surprise.
Mom Tip
Lay down a plastic table cloth to play on or make sure they play in an area easy to clean up because it can get messy! That said, the cloud dough did vacuum up easily from the hardwood floor and rug. The mess was worth it to see all three girls playing together happily for about 45 minutes!
The dough stuck together really well, but still had that silky feeling you want from cloud dough. The yummy vanilla smell alone is worth giving this one a try!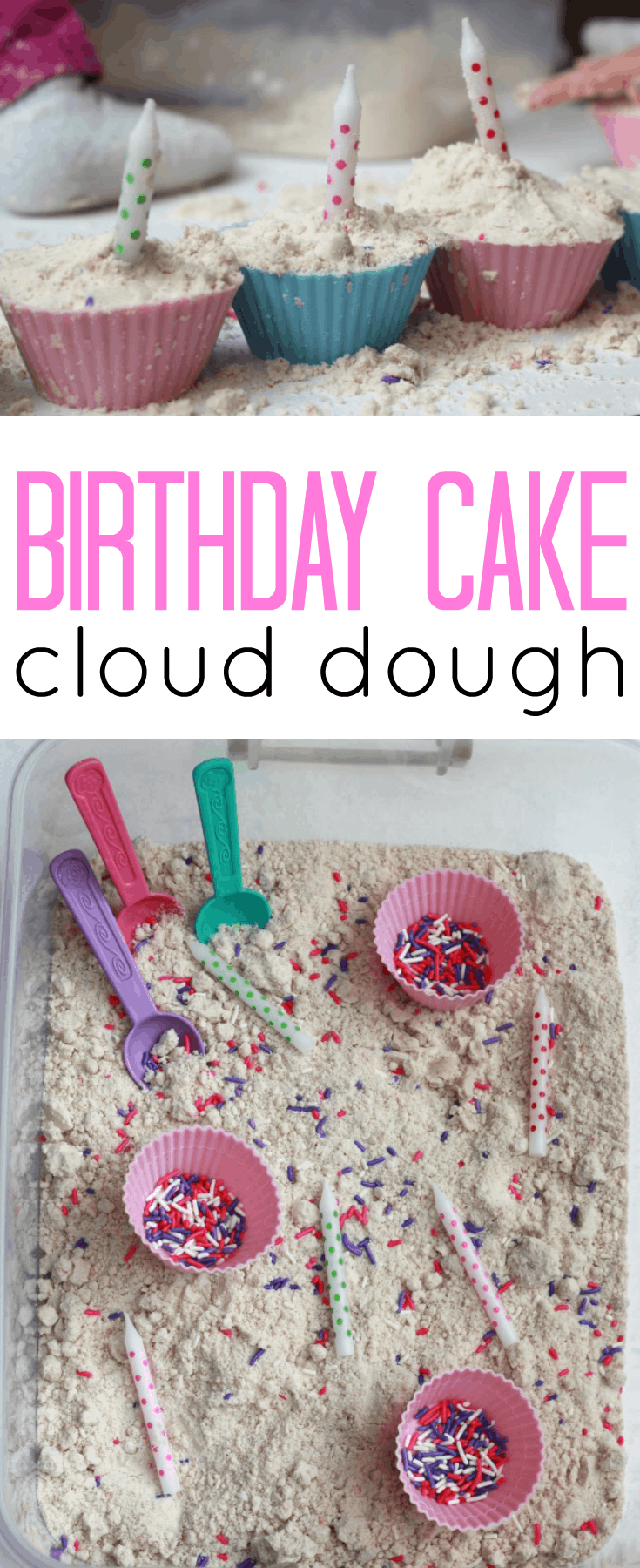 Amy is a former reading and third grade teacher as well as a mother to three little girls with big personalities. She believes joy can always be found in playing, learning, and ice cream.
Click here for more fun sensory activities:
Oobleck Recipe:  Liquid or Solid?
Cornstarch and Shaving Cream Fun