Dinosaur Fossils Craft with Coffee Grounds
We're kicking off our thematic unit on "Digging up Dinosaurs" by making this Dinosaur Fossils Craft using recycled coffee grounds. Besides being fun to make, these will be going in the sensory tub for the next week or two!
Here's what you'll need to make your very own dinosaur fossils. I significantly tweaked the instructions I found here.
Recipe for Dinosaur Fossils using Coffee Grounds

1 cup used coffee grounds
1/2 cup cold coffee
1/2 cup salt
1 cup flour
1. Have your little one help you mix the coffee grounds, coffee, salt, and flour together in a mixing bowl.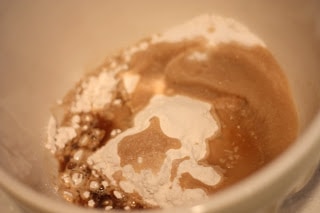 2. Take a small handful of the mixture and place it on a cookie sheet. Press down with the heel of your hand to make a flat, circular shape about 1/2″ thick. Continue until all the mixture is gone or you have no room left on your cookie sheet.
3. Use plastic dinosaurs to make footprints on the fossils. You can also use leaves and bones from a cooked chicken (scrubbed and clean, of course) to add to your fossils. (You might notice that in our pictures, he is making impressions on circles cut out from a large rolled out dough. I'm telling you to do it differently because that is eventually what we had to do after our first attempts. We couldn't get the dough on the cookie sheet without it falling apart or stretching out, so we eventually did the method described above and it worked much better).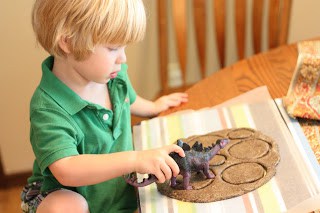 4. Once all the impressions have been made, put your cookie sheet in the oven on 200 degrees for 30 minutes.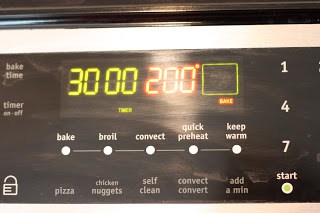 5. Once 30 minutes is up, take the fossils out of the oven and carefully use a spatula to remove them from the cookie sheet. Once they are cooled, turn them over and let the bottoms dry out overnight.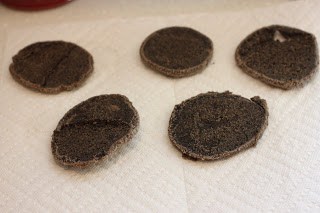 There you have it! Enjoy making these with your little dinosaur lover!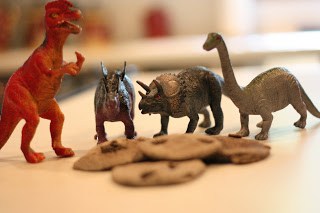 Literature Link:
Dinosaurs
by Grace Maccarone
This book is a compilation of 4 dinosaur stories. The first is a very simple non-fiction story about dinosaurs, perfect for young children. The rhyming words make it even more attractive for a preschooler. Your little one might even recognize some sight words while reading this simple story!
Originally posted on August 30, 2010