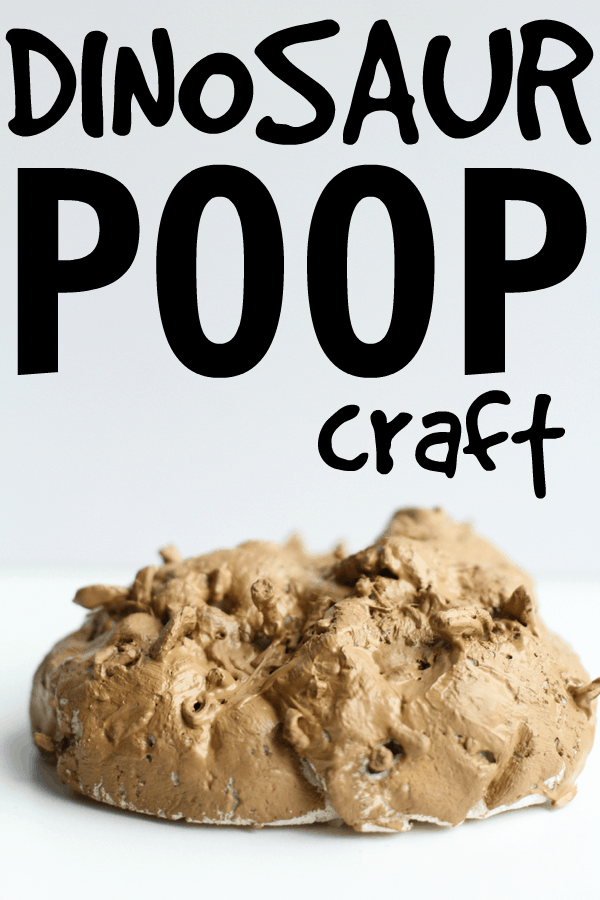 Even boys children who hate doing crafts are sure to find this dinosaur poop craft entertaining! I certainly never thought I would posting a craft that has the word "poop" in the title. But that is what you do for your children and their interests, right? Haha!
Thankfully, I can't take full credit for this activity. Big Brother found a book titled Dino Poop earlier this summer at a garage sale and has been begging me to do some of the activities in the book. Of course, this one was his first choice. What is it with boys and bodily functions?!?!
This fake poop could be a doorstop, paperweight, or even a way to pull a prank on a friend. After all, who doesn't love a giant pile of poop in their house?!?! In addition to the gross factor, however, this can also be a great time to talk about poop in a scientific way. Petrified poop is called "coprolite" and can tell us a lot about dinosaurs and other animals–including what they ate, what they might have looked like, and what their habitat was. Some coprolite that has been discovered in permafrost caves is thought by scientists to be a million years old!
Here is the recipe:
1 cup flour
1 cup salt
2/3 cup cornstarch
2/3 cup warm water
Small amounts of dried rice, twigs, nuts, grass, chow mien noodles, etc. to add texture
Poop-colored acrylic paint
1. Mix the dry ingredients.
2. Add water and continue stirring.
If it is too dry, add a tiny bit of water at a time until it sticks together. If it is sticky when you try to knead it, add a bit more flour.
4. Knead the dough and shape it into a coprolite.
5. Gather some materials to add "natural texture" to the poop. Oh yes, I just typed that sentence.
In goes the penne pasta…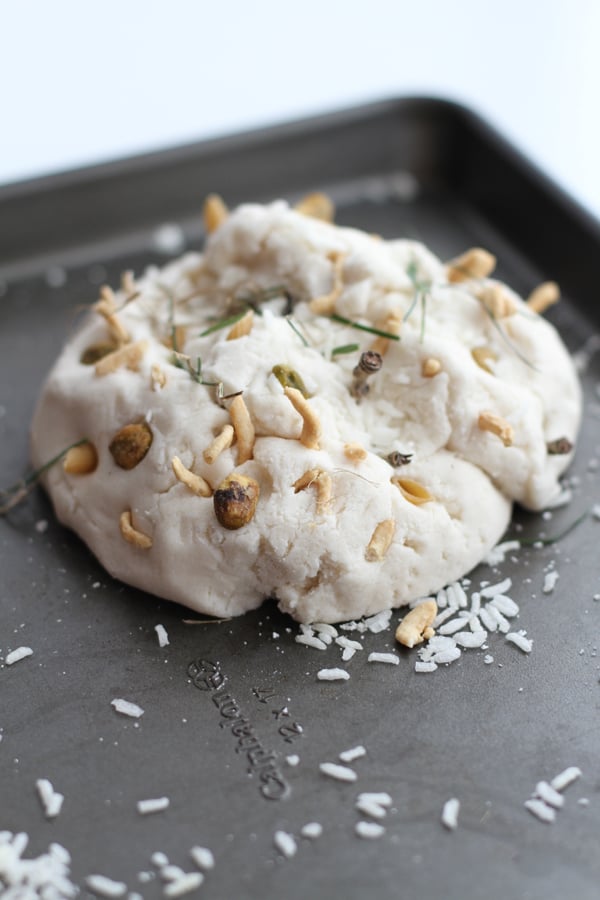 6. Put the dough on a baking sheet and bake at 200 degrees (F) for 20-25 minutes. Or you can leave it out to air dry for a few days. You might need to turn the turd over and put it back in the oven for a while to dry out the underside.
7. Last but not least, time to paint the poop so that it looks more poop-like.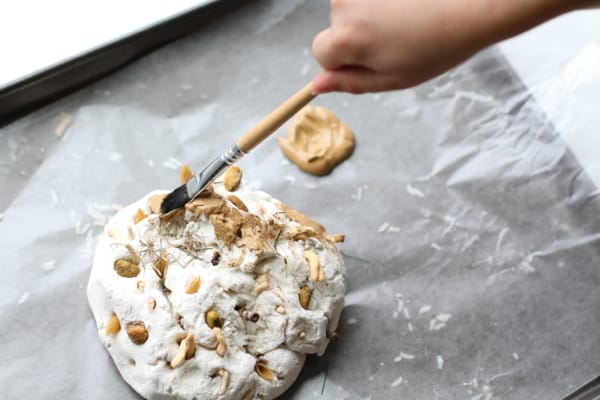 This might be my favorite picture ever in the history of this blog. Check out Little Brother's face! Hahaha…I can't stop laughing.
Ta-da! A very realistic-looking giant turd. Just what you always wanted.
What is the craziest craft you and your kids have ever made???
Check out more (non-poop-related) posts about dinosaurs here.
Literature Link
Jurassic Poop by Jacob Berkowitz
Dino Poop by Jane Hammerslough
Everyone Poops by Taro Gomi