5 Pre-Writing Activities for Preschoolers
Prewriting Activities For Preschoolers
Guest Post by Caroline of Under God's Mighty Hand
Most children go through stages of development in pre-writing skills, and we can utilize a variety of tactics to help progress their skills.
While the activities below are listed in order from beginning to more precise prewriting skills, we're currently using all of these prewriting activities with my son who has special needs. It's worth it to revisit and strengthen previous skills for more practice.
1. Peg or Straw Prewriting Activity
Any basic fine motor activity where your child is holding an object similar to how they would hold a pencil helps build grip strength.
We love using Lauri peg materials to practice fine motor control.
You can also poke holes in the top of a plastic container and have your child place straws inside for another fun prewriting activity.
2. Dot Painting Prewriting Activity
Your child can begin painting a picture of dots using his or her finger, then progress to using a Q-tip in paint to letters, create pointillism art, or complete dot painting printables like these at 1+1+1=1. Dot painting helps familiarize your children with letter and number shapes while practicing precision in placing their finger or the Q-tip.
3. Tracing Letters Activity
Before learning to hold a pencil, it helps to practise tracing the alphabet with a finger. Doing so helps your child develop stronger familiarity with their letters, begin memorizing how to write letters, and adds a sensory aspect to forming letters. You can employ multiple types of sensory materials for tracing letters.
Examples of Tracing Letters:
Trace over your writing or tactile letters, like sandpaper letters or glitter glue letters. (Create these by drawing a letter in glitter glue on an index card.)
 Draw letters in a sand or salt writing tray.
Trace inside letter stencils on a light table.
4. Dot-to-Dot Prewriting Activities
Remember doing numerous dot-to-dot activities as "bonus work" in early elementary school or in activity books on car rides? Well, those dot-to-dot worksheets actually help build pre-writing skills! Create your own dot-to-dot to cater to your child's needs. When beginning to work with dot-to-dot activities, create simple ones, especially if working with a younger preschooler or a child with fine motor delays. "Down" and "across" are the first writing motions to master. When starting this with my son, I made dot-to-dots with just three dots forming a "L" shape.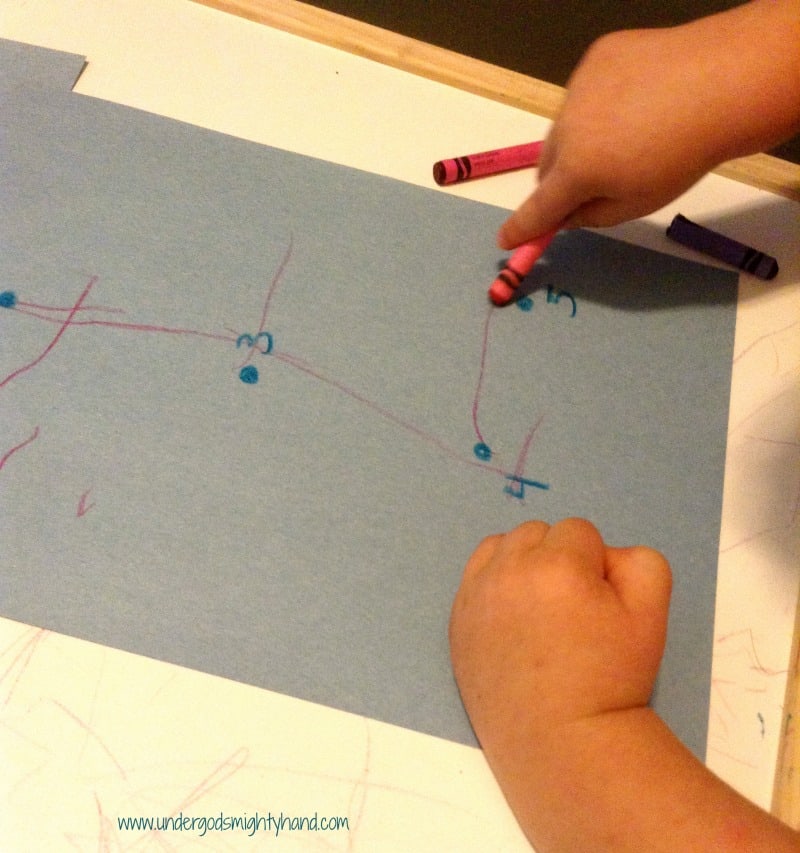 Increase the number of dots, add multiple changes in direction, add diagonal lines, and progress to curved lines to increase difficulty. Then, begin creating dot-to-dots to form a favorite object, like a ball.
5. Bubble Letters
Before we can even begin a formal handwriting curriculum, my son needs to be able to control his writing strokes within a defined space. "Bubble letters" offer parameters for letter formation.
We first did this activity with the "t" shape. I drew four "t" bubble letters on one sheet of paper. I modeled the first one for my son, then asked him to draw "down and across" in each of the others. He was so proud when he did it!
Progress with different types of lines as your child gains more control. (I suggest beginning with "t," "L," "E," and "H.")
This post was first published 2013. Updated 2018.
What prewriting activities have helped your kids strengthen their skills?
Breaking writing skills down into smaller steps builds confidence and solid skills. Just as it does when you are teaching your child to read!
Caroline is a wife, homeschooling momma to two undeserved blessings, writer, former public school teacher, and picture book fanatic. She blogs at Under God's Mighty Hand with book reviews, homeschooling activities and printables, modifications for kids with special needs, and faith and family posts. She also contributes monthly to three other team blogs and loves to chat on Twitter and spend "homeschool planning time" on Pinterest. :)